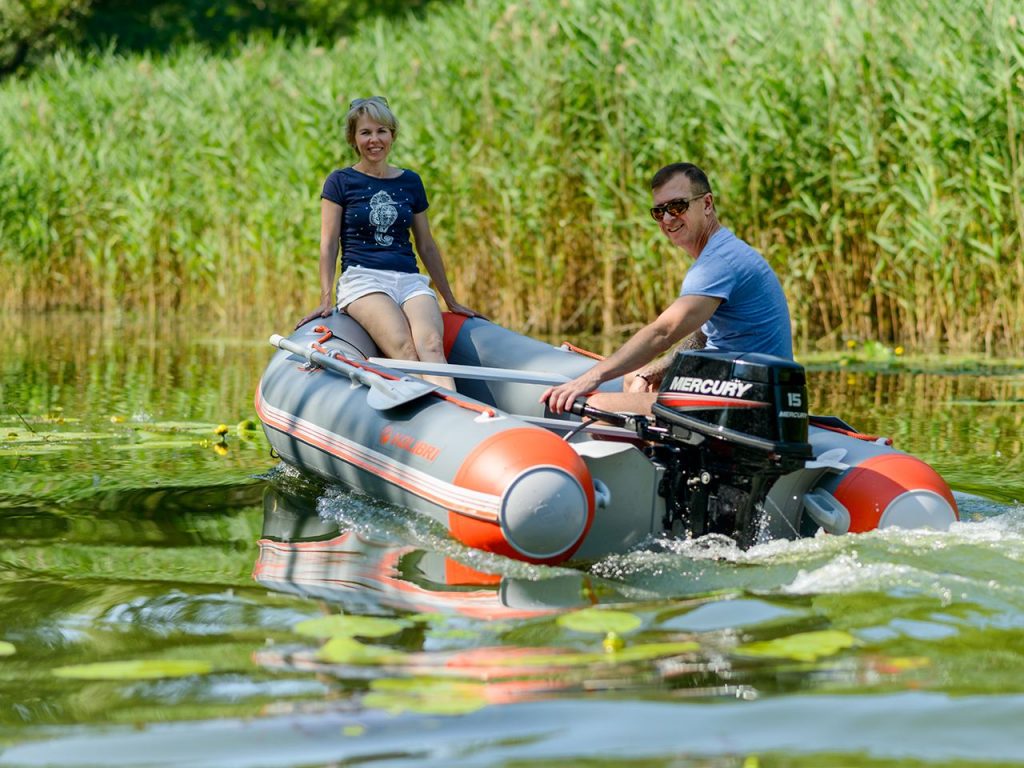 Among other series of motorized inflatable boats produced by the Ukrainian shipbuilding company KOLIBRI, it is worth highlighting the Sea Line series. The keelboats of this series have improved running and seaworthiness, are well controlled and behave perfectly at speed under a powerful engine.
The optimal boat of the DSL series in many respects is the KM-360DSL inflatable motor boat. We suggest you familiarize yourself with this watercraft in more detail.
General characteristics
The KOLIBRI KM-360DSL is spacious and roomy boat, it is designed for five passengers and has a load capacity of 650 kg. The hull of this boat has a length of 360 cm and is made of PVC fabric with a density of 1100 g/m². The three insulated tube compartments have a large diameter of 42 cm and are inflated to a nominal pressure of 0.25 bar, making the hull strong and with a high margin of buoyancy.
A stationary transom, a hard wooden or aluminum floorboard and an inflatable keel make this boat capable of high speeds, give it controllability and easy access to the gliding. This boat can be equipped with a motor with a capacity of up to 20 horsepower, which is very good for this type of inflatable boat.
KM-360DSL almost does not splash, after it you will see a clean wake.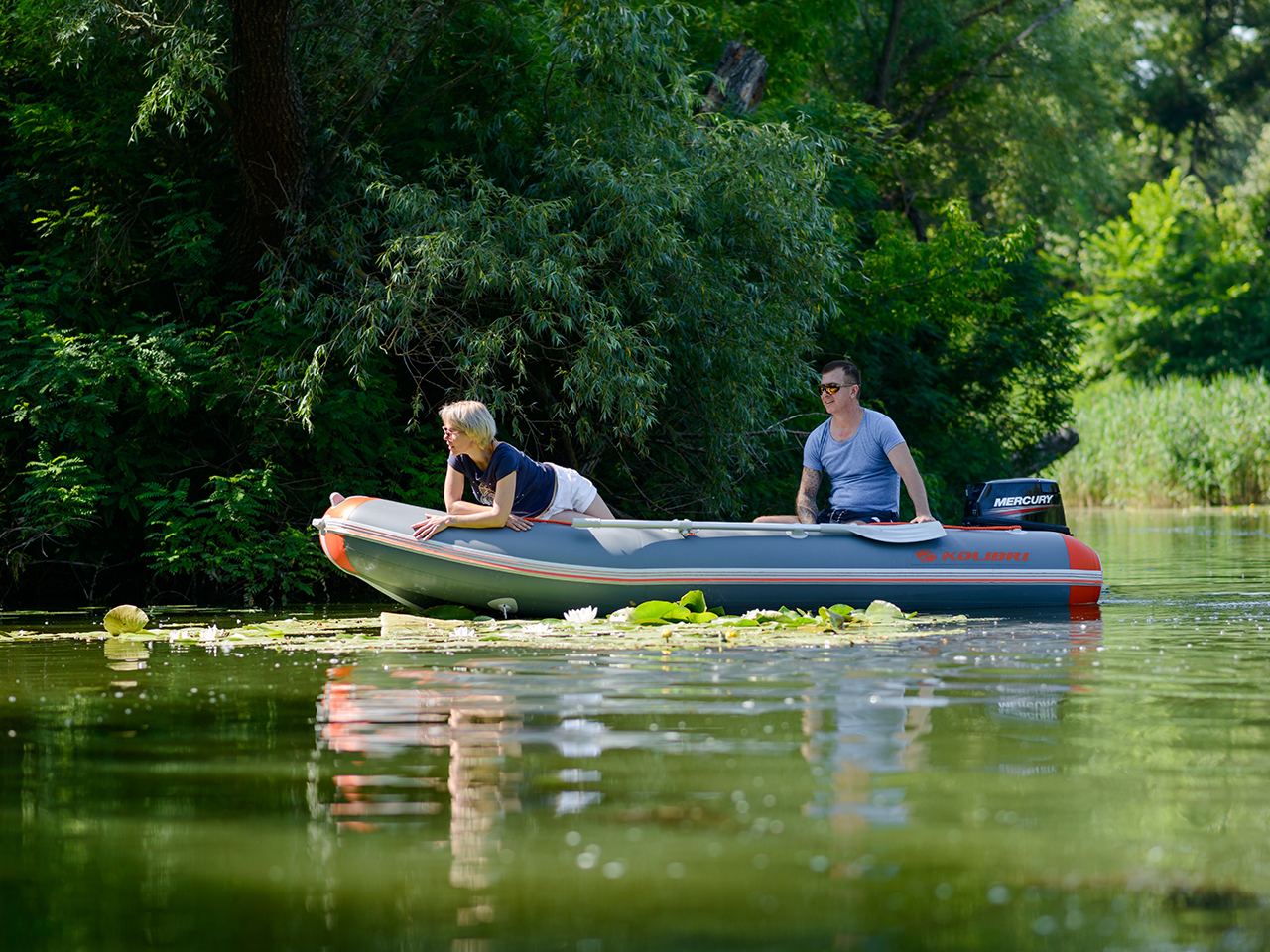 Safety and convenience
The internal space of the boat (or cockpit) of the KM-360DSL has dimensions of 73 by 280 cm, which makes it possible to comfortably accommodate up to five adults. Movable benches, which can have removable soft seats, under-seat bags, as well as a bow bag provide convenient storage of cargo and its protection from splashes of water. This boat is equipped with an oar group with improved hydrodynamic characteristics, a bow roll with an anchor rope attachment, monolithic transom attachment supports, which are several times stronger than traditional attachment with PVC tapes.
Smooth contours and hemispherical stern tubes provide the KM-360DSL with improved seaworthiness, which is an additional safety factor.
Maneuverability
The inflatable keel, which is inflated to a nominal pressure of 0.35 bar, adds to our boat's controllability and course stability. On bends, the KM-360DSL keel boat behaves confidently, the tilt of the hull occurs in the direction of the turn, which is much safer for the crew and unsecured cargo.
It is worth noting the mode of sailing of KOLIBRI keel motor boats. They have a streamlined body with an optimal ratio of size, load capacity and engine power. Especially in this sense, it is worth mentioning our KM-360DSL, the parameters of which are as close as possible to the ideal ones for going out on the gliding.
Possibilities of additional equipment
KOLIBRI company produces the entire range of necessary components and additional accessories for all series of its boats at its own production facilities. Of course, for its flagship – motor keel boat KM-360DSL KOLIBRI company has specially carefully developed additional devices.
This is also a special removable dodger with a transparent window that protects passengers from oncoming air flow and splashes; and the bimini top, the name of which speaks for itself; as well as protective canopy that turns your boat into a real mini-trailer on the water. The overall cover, specially designed for DSL series boats, will protect your boat during transport and storage.
Soft inflatable chairs, removable soft seats, transom wheels, a universal fixing block and many other small things make an already wonderful boat truly unique and individually unique.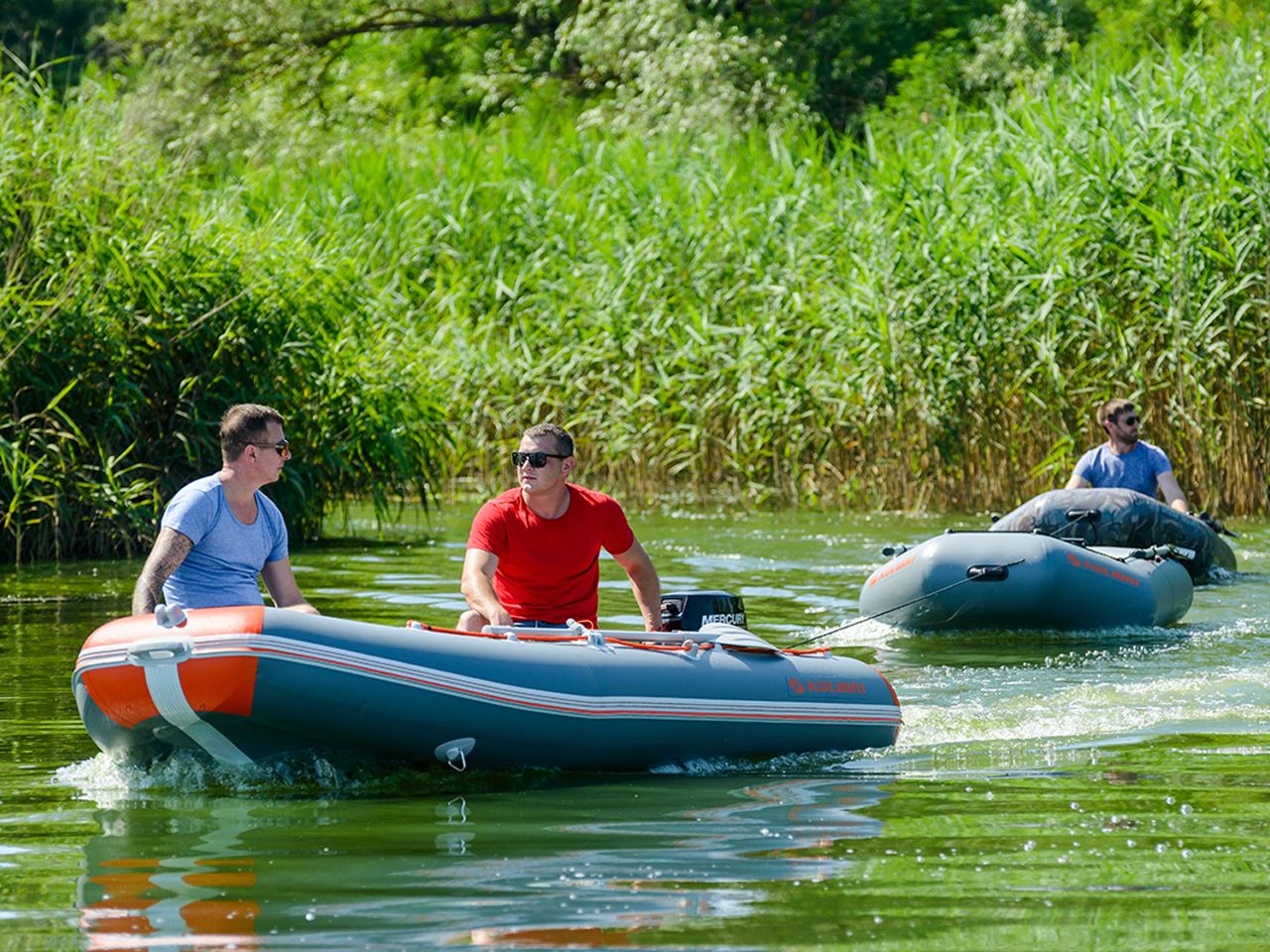 Compatible motors
Each boat is designed to use a motor of a certain power (power limit), it depends on the size and weight of the boat, the shape of its hull and transom.
Motors that can be installed on the KM-360DSL can be up to 20 hp. (14.7 kW). As a rule, these are gasoline four-stroke engines of the injection type, they have a greater resource, are economical, and have a relatively low level of vibration.
Conclusions
If you are looking for the perfect boat, then the KOLIBRI KM-360DSL is your choice. When the boat is not only technically optimal and almost perfect in terms of construction, but also aesthetically beautiful and pleasing to the eye, it brings true satisfaction to the owner and passengers. Smooth lines of hemispherical feed tubes, almost a dozen color solutions of PVC fabric, optimal proportions of the hull, speed and power – all this makes the KM-360DSL inflatable motor boat a recommended choice of watercraft for long-distance water trips, fast, comfortable and safe.
The KM-360DSL boat is definitely worth the money, and these are not just words, but the conviction of our regular customers, dealers and partners, who have been convinced of this for a long time. We recommend this boat model to you and your friends, as our pride and the result of many years of work of our team's specialists. Experience and professionalism, love for one's work and responsibility to customers give us the right to claim that the KOLIBRI KM-360DSL inflatable motor keelboat is our best offer in this class of small motor boats.