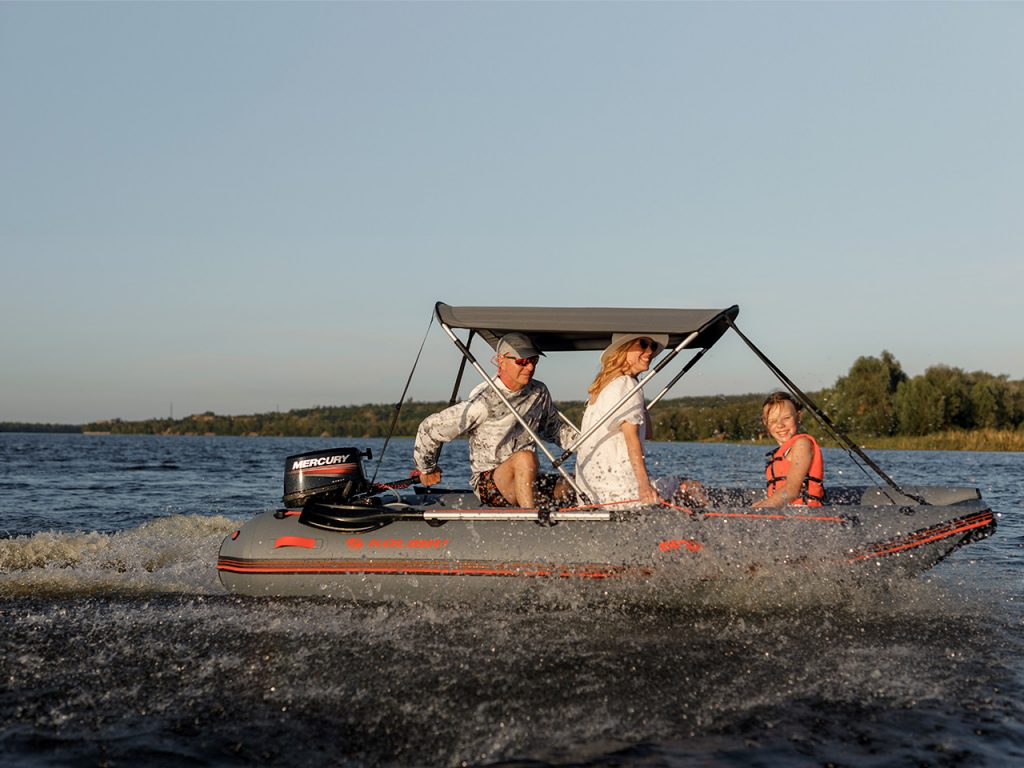 Inflatable boats have always served as a reliable companion for travel and recreation on the water due to their portability, versatility and ease of operation. Ukrainian manufacturer of the inflatable boats KOLIBRI has always been at the forefront of inflatable boat development and production, and now the manufacturer taking water adventures to the next level with their inflatable catamarans. These innovative products are designed to increase comfort, provide customers with new experiences and provide unforgettable emotions during various trips on the water, diving and fishing.
What is a catamaran?
An inflatable catamaran is a rather specific watercraft, which has two inflatable tubes located parallel to each other and connected to each other by a bottom made of PVC fabric, on which a removable "Air-deck" system is installed. This system provides better buoyancy because the air-deck is another inflatable tube that gives the boat additional stability.Such a unique design gives catamarans impressive stability and strength, making them ideal for traveling on waterways of any difficulty. The catamaran has high stability also due to the wide cockpit, excellent maneuverability due to the design, low draft of tubes than inflatable keelboats and high load capacity. Inflatable catamarans combine this stability with the advantages of light inflatable boats, creating an unprecedented float for water travel.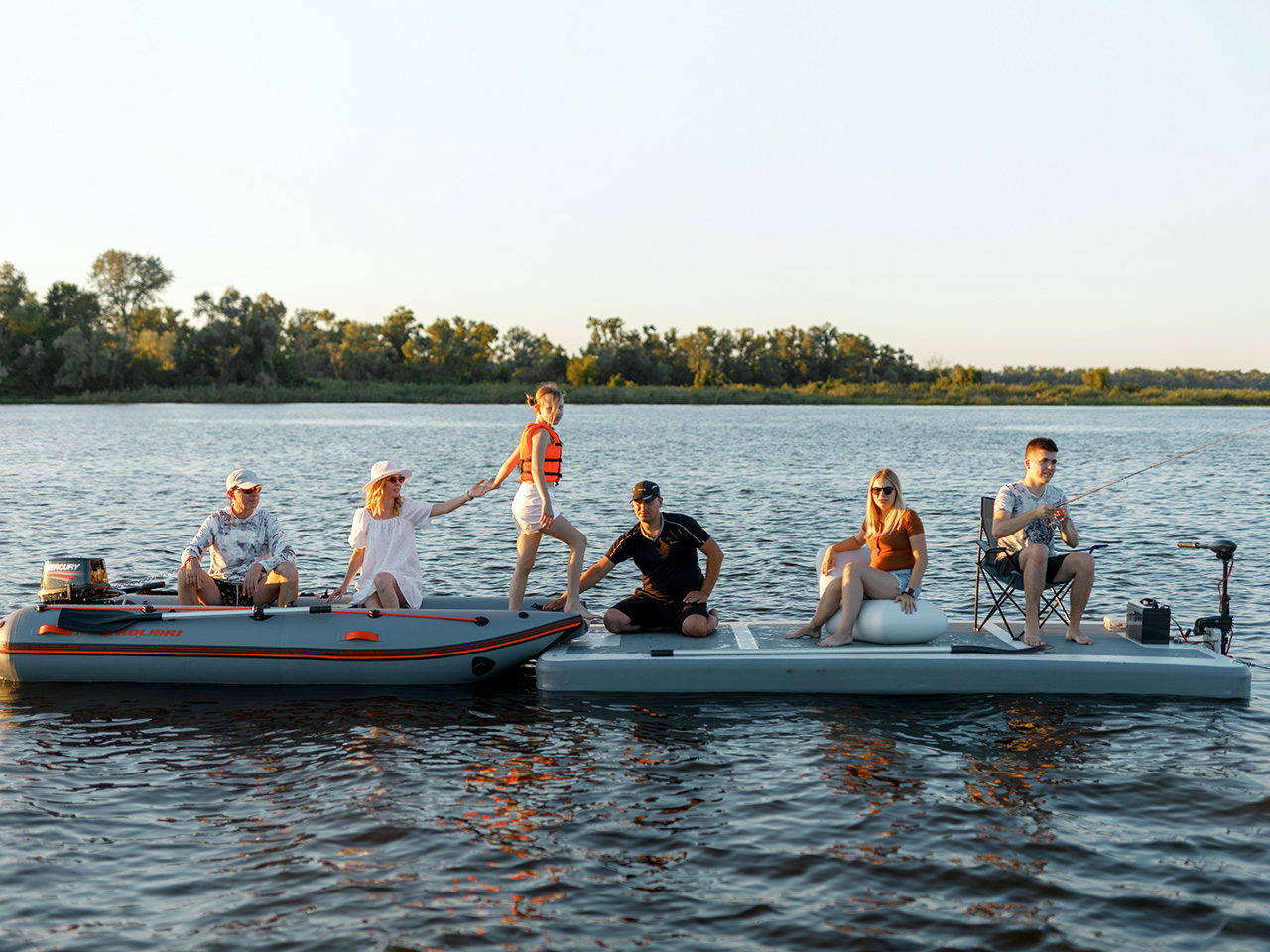 Why should you choose a catamaran for travel?
By choosing an inflatable catamaran for travel, you reach a new level of comfort and adventure. The double hull design gives the vessel extreme stability and ease of movement. This is especially important on large bodies of water or the open sea, where a catamaran provides a feeling of confidence even for beginners.
Inflatable catamaran "KOLIBRI" is an innovative inflatable boat with a wide open bow part. The open bow part makes it easy to disembark passengers ashore. Safety and stability are critical features of this boat. It is very easy and convenient to carry and manage the catamaran.
Types of catamarans for travel
There are many options for inflatable catamarans for travel, ranging from compact single-seat models to large family boats. Some catamarans have special seats for comfortable seating, others can be equipped with motors to increase the speed and efficiency of the trip.
There are large round-the-world catamarans that have a cabin, sailing rigging and a host of additional navigational and other equipment.
There are also sports racing catamarans, the hulls of which are the result of complex computer calculations and are an example of high-tech developments.
How to choose a catamaran
Size and load capacity: When choosing a catamaran, consider the number of people
who will be traveling with you and the amount of cargo you plan to carry.
Design: The stability of the vessel is important for voyages. Choose a catamaran with large and strong hulls for reliability and your safety. KOLIBRI catamarans of the "Sea Cat" series have a stationary transom, which is mounted in monolithic transom mounting supports. A sliding seat system is installed on the tubes, which allows you to install the seat in the most convenient place for you, but you can completely remove the seat for the convenience of transporting large luggage.
Maneuverability: Consider the level of maneuverability and ease of handling of the
catamaran, especially if you plan to travel in narrow bodies of water. The engine power
must be as specified in the boat's manual.
Materials: When choosing, consider the materials the catamaran is made of. High-quality and durable materials guarantee a long service life. In KOLIBRI inflatable catamarans, this is a five-layer PVC fabric with a density of 1100 g/m². The fabric has high strength and resistance to damage, thanks to the dense weaving of reinforcing threads. All connecting seams of the catamaran are welded on HFW equipment, this is the best technological method of connection, which is controlled by a computer. Reinforcement of tubes lines with a 120 mm protective rubbing strake is applied.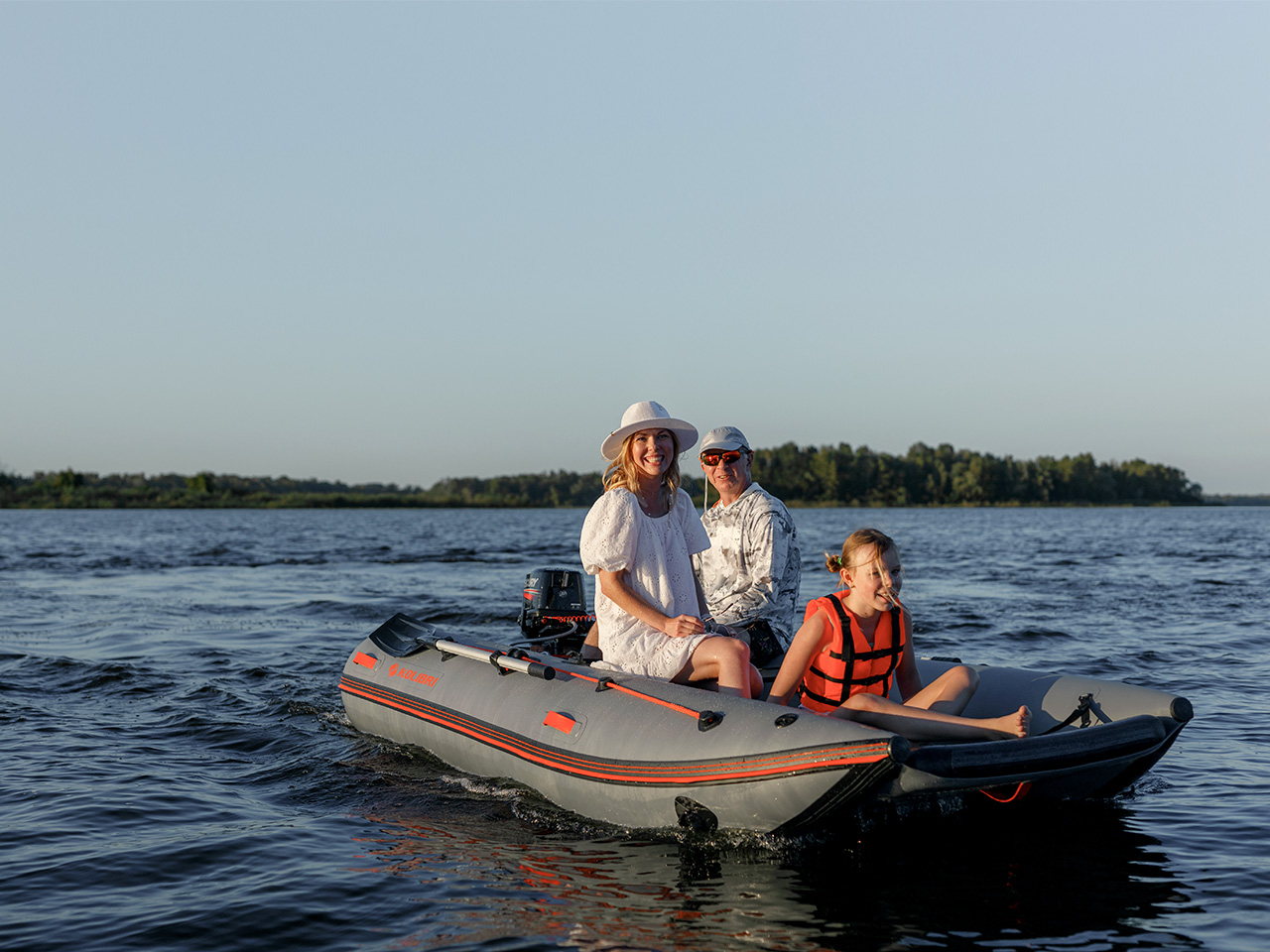 How far can you sail on a catamaran
Inflatable catamarans are capable of traveling long distances, including multi-day trips. Depending on size and equipment, some models have large tanks for storing water, fuel and food, making them ideal for long trips. As already mentioned, it is catamarans that currently have the palm of the hand in round-the-world travel due to their carrying capacity and stability on waves.
Conclusions
The inflatable catamaran-boat for travel from the Ukrainian shipbuilding company KOLIBRI opens up new opportunities for water adventures and recreation. This unique combination of stability, comfort and reliability makes them ideal for anyone who loves to explore the waterways.
Regardless of your level of experience, an inflatable catamaran, as a boat for active recreation, will become your faithful travel companion and allow you to enjoy all the advantages of water adventures. With KOLIBRI and their inflatable catamarans, you will be able to open new horizons and create unforgettable memories while traveling on the water.