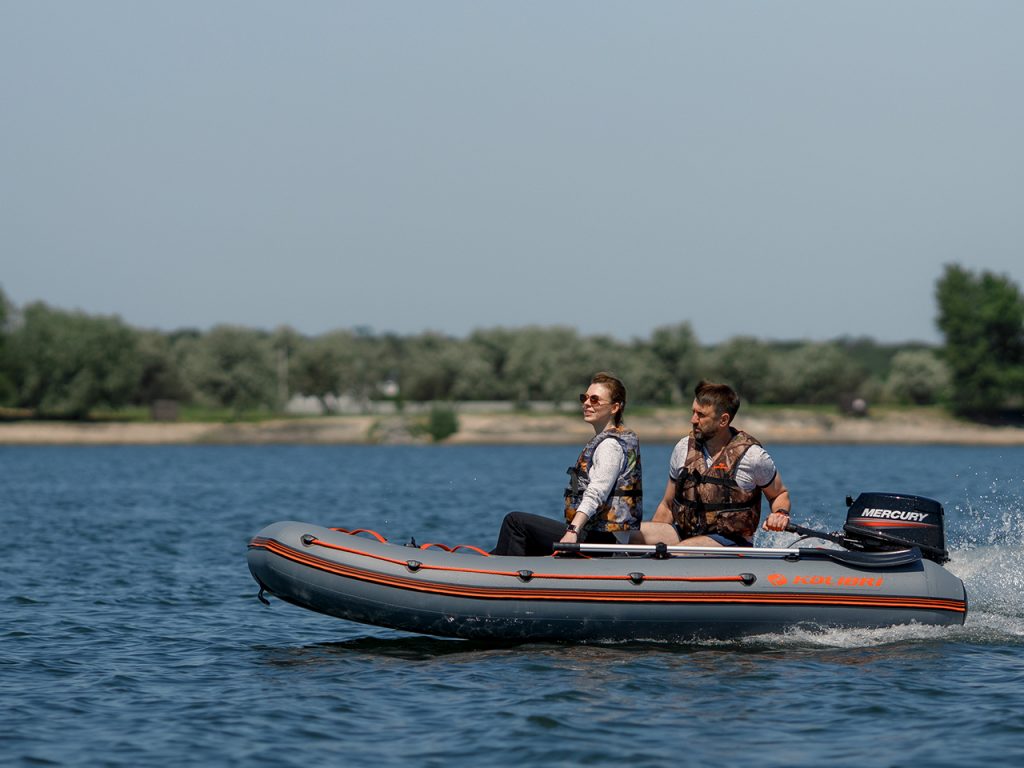 Water spaces have always attracted us with their mystery and beauty. And nothing can compare to the feeling of freedom and ease that you get when you go on a trip on your own boat, the sun is reflected in the waves, the wind and splashes of water pleasantly refresh your face, and the smell of pine trees and fresh grass on the shores cannot be compared to anything at all. That is why inflatable boats are becoming more and more popular among people who appreciate active recreation on the water. The "Explorer Light" series from the KOLIBRI company is your opportunity to discover the world of light inflatable boats and experience all the advantages they can provide.
For almost 25 years, the leading Ukrainian boat manufacturer – SC KOLIBRI LLC has been offering a wide range of watercraft made of PVC fabric – from small rowing boats and "belly boats" to canoes, catamarans and large motor keelboats with a stationary transom. The "Explorer Light" flat-bottom motorboat series occupies a worthy place among the entire KOLIBRI family of vessels. These boats have their target audience – admires of family vacations on the water, with children and friends, luggage and tents, under a motor of up to 12 horsepower, without sharp maneuvers and unnecessary extremes. Comfort and safety, reliability and durability are the main goals of this series.
Advantages of Explorer Light inflatable boats
Lightness and portability: "Explorer Light" motor boats from KOLIBRI are ideal for transportation. They can be easily loaded into the car and do not take up much space.
High Maneuverability: The boats allow easy maneuvering in narrow and difficult bodies of water, making them ideal for water adventures and fishing in places where access is limited.
Fuel economy: Small motor boats from KOLIBRI require less fuel, which allows you to save money during water trips.
Ease of maintenance: These boats do not require complex maintenance and expensive repairs. They are very reliable and easy to use.
Smooth contours and improved seaworthiness: "Explorer Light" series boats impress with their smooth contours, thanks to which they can easily overcome waves and be maneuverable even on difficult water bodies. This makes them ideal for water adventures and fishing.
Large cockpit: The large cockpit of "Explorer Light" boats allows for comfortable accommodation of crew and cargo. The whole family can travel together. You will not feel discomfort during long trips or fishing expeditions.
Strong and cut-resistant five-layer PVC fabric with a density of 950 g/m²: The boat material has high strength and resistance to damage. This makes them durable and allows you to enjoy a carefree vacation.
Air-deck floorboard- ease of assembly/disassembly: the air-deck floorboard makes the process of assembling and disassembling the boat quick and easy. You will not have to spend a lot of time preparing for fishing.
Overpressure Valves – to relieve excess pressure in tubes: The function of overpressure valves makes it easy to adjust the pressure in the tubes, ensuring excellent boat performance.
Sliding seats – stepless movement of seats along the side of the boat. A convenient system of sliding seats allows you to adjust the seat exactly as you like.
Full-size oar group with improved hydrodynamic characteristics: The oar is designed with hydrodynamic characteristics in mind, which makes the boat control very efficient.
Monolithic transom mounting supports are several times stronger than traditional mounting with PVC tapes: This design ensures the reliability and durability of your boat.
The material of the boats of this series is traditional for all KOLIBRI boats, strong and cut-resistant five-layer PVC fabric, in this case it has a density of 950 g/m2.
In this model, parts of the PVC material are combined using hot air welding with simultaneous drawing of the surfaces through special pressing rollers. After that, a thermo-hair dryer heats the joint, thanks to which the PVC is welded at the molecular level. Such seams are strong, hermetic, do not have folds and creases, and are resistant to temperature changes.
Set of Explorer Light boats
Standard equipment of boats of the "Explorer Light" series:
Boat
Oars
Seats
Air-deck floorboard
Pump
Manual
Bag
Additional equipment of boats of the "Explorer Light" series:
Removable soft seat
Under – seat bag
Removable dodger
Protective canopy
Bimini Top
Multipurpose overall cover
UFB (universal fixing block)
Color solution of boats of the "Explorer Light" series:
dark gray,
green,
light gray.
Dimensions of boats of the "Explorer Light" series from KOLIBRI:
The relatively small external dimensions of the boats of this unique series are surprising with a spacious enlarged cockpit (the internal space of the boat where the crew and luggage are located), its length is from 192 to 252 cm with a width of as much as 170 cm. So there is enough space for everyone!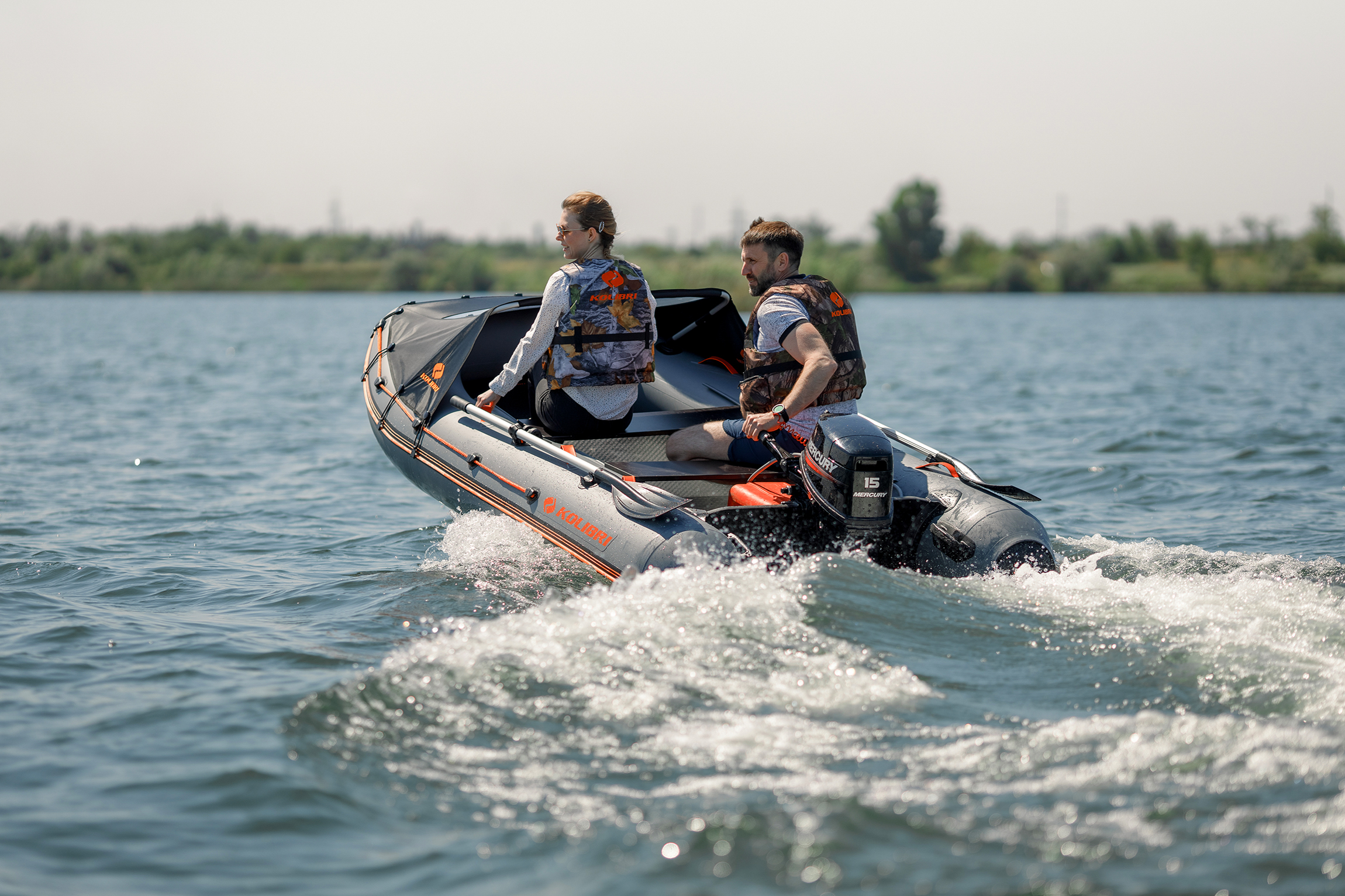 What models of boats of the Explorer Light series are offered by the KOLIBRI manufacturer
KOLIBRI KM-270XL: This is the smallest boat in the series, ideal for one or two people. It has smooth contours, an enlarged cockpit and a large cargo capacity.
KOLIBRI KM-300XL: This is a full-size boat with an improved design, an enlarged cockpit, improved seaworthiness and high cargo capacity.
KOLIBRI KM-330XL: This is the largest boat in the "Explorer Light" series with a comfortable cockpit and a large cargo capacity. It is ideal for family vacations and professional use.
All boats of this series are equipped with an air-deck floorboard.
This inflatable floorboard increases the running and operational characteristics of the boats of the "Explorer Light" series. They perfectly combine lightness, portability and reliability, making them the best choice for different types of water adventures.
The high-pressure air-deck floorboard gives boats additional buoyancy, it can be used in the parking lot as a roll mat or as a place to rest.
Conclusions
We have described all the advantages of this unique series of inflatable boats. We are sure that the beautiful and elegant shapes of the "Explorer Light" boats will not leave you indifferent, and the price and design features will motivate you to choose one of the three models. The guaranteed quality of KOLIBRI and after-sales service have long been an advantage of this Ukrainian brand.
So, don't waste time – immerse yourself in the world of water adventures and buy an inflatable motor boat of the "Explorer Light" series from the shipbuilding company KOLIBRI today!