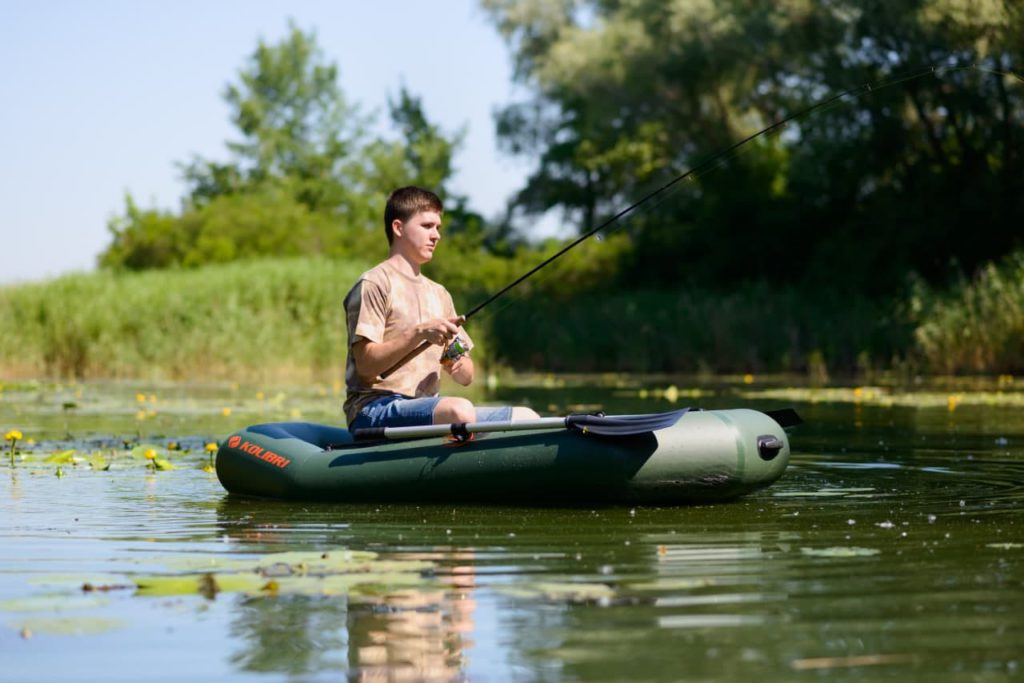 Safety is the first thing to think about before going on a more or less long-distance water hike. Same goes for fishing in reservoirs, at sea, where you can often swim quite a long distance from the coastline.
What to consider before fishing
Before going out into open water, you should complete such basic actions as:
Make sure that you and your friends feel well.
Make an external inspection of the inflatable boat, check the integrity of the PVC fabric.
Check the oars and rowlocks, make sure the engine is working properly and there is enough fuel for it;
All passengers should wear buoyancy aids, also you need to have a first aid kit on board and some means for pumping water;
You should inform your friends or relatives in advance about the time and place of your fishing trip or the route of a water hike, have means of communication with charged batteries on board;
An anchor will help you handle the current;
In the dark, you must have a indicating lights to make your watercraft visible on the water;
To be aware of the weather forecast is also highly desirable. In strong winds and waves, the diameter of the tubes – sides of your boat – is crucial — the high sides will protect the cockpit from being overwhelmed by the wave;
Fishing in a boat while standing is quite dangerous, this reduces the stability of a light inflatable craft, the center of gravity shifts upwards.
Remember about other watercrafts on open water — you may not notice or notice a boat heading towards you too late, and you may not have time to weigh anchor.
In shallow water, near a rocky shore or simply in unfamiliar places, be careful not to cut the hull of a PVC boat.
Depending on the weather, there may be some special safety tips:
Cold weather
When you fall into cold water, hypothermia is a serious threat even if you wear a buoyancy aid, so do not move far away from the shore in cold weather. You have less chance to swim to the shore in cold water.  Hypothermia due to wind when you are inside the boat is also dangerous, warm clothes and shoes will help you feel comfortable in the cockpit of a PVC boat for a long time in cold windy weather;
Remember that cold water affects the pressure in the tubes of the boat – that is, reduces it. If a boat is inflated on the shore and launched into cold water — be prepared for the pressure loss in the tubes, so the boat needs to be inflated a little more. It's good to have a pump on board.
Good safety equipment are sealed bags for your things, lifebuoys and other unsinkable items on board.
Alcohol will not save you from the cold, do not forget about it.
Hot weather
In hot sunny weather, you need to have something to prevent you from overheating on board – panama hats, light closed clothes, protective creams;
An excellent option to protect yourself from the heat during a long stay on board is an installed bimini top or a protective canopy from KOLIBRI Boat Manufacturing Company
Precautions for fishing on an inflatable boat
Design features of an inflatable boat that affect safety
In terms of the impact on safety, such design features of PVC inflatable boats should be noted as: height of the sides of the inflatable boat, a rigid deck (floorboard), an inflatable keel, a keel protector, a bow canopy.  Also an important factor is the density of PVC fabric;
Reliable rowlocks for oars, high-quality outboard motor transom mount guarantee that you will get to the shore.
The safety when using an inflatable boat also depends on the person
The human factor is a paradoxical component of security. Everyone knows about the rules of behavior on the water, but, unfortunately, not everyone follows them. Therefore, every fisherman, tourist and just a lover of recreation on the water should take care of their own safety and the safety of their friends on board of an inflatable boat. No one but you will do things, that depend on you, better;
Key rules of behavior on the water
The key rules of behavior on the water are: high-quality and serviceable inflatable boat, buoyancy aids and a sober estimate of the emergency situation.
When it comes to your safety on the water and you choose the boats of the Ukrainian KOLIBRI Boat Manufacturing Company, you can forget about the technical aspects of such an important issue. Your safety depends on you, be careful, and your vacation on the water will give only the most pleasant experience.