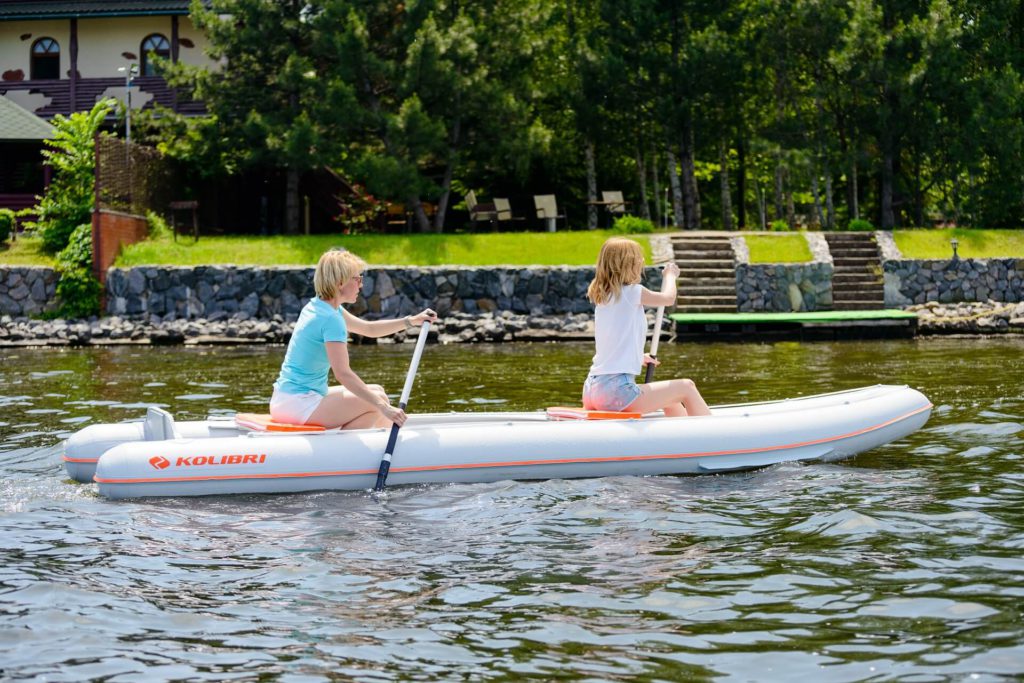 Any PVC boat is sold in its standard (basic) configuration. As a rule, this configuration is a minimum required set of items, which are essential for normal use of the boat. Usually those items are: obviously, the boat itself, a bag, oars, seats, pump, repair kit, manual.
There are also a large number of additional accessories that make the operation of the boat more convenient, efficient and comfortable. You can always purchase them separately – all you need to do is to make sure that one or another accessory is compatible with a specific model of a rowing or motor boat, canoe or the Float board boat Belly Boat.
Accessories can be very different — these are plastic, sewing, plywood or metal products. Some accessories are meant to be used constantly, some of them are narrowly applied and used occasionally. Anyway, each boat owner chooses his own set of additional equipment.
Types of accessories
PVC boat accessories are of the following types (randomly classified):
Sewing products:

bags or backpacks for carrying your boat
tackle bags
bow storage bags
under-seat storage bags
removable soft seats for plywood seats
overall covers for transportation
removable dodgers
bimini tops
protective canopies
buoyancy aids of different types

Constructive equipment

pumps of different types
seats
inflatable seats
rubbing strake
floorboards of different types
profiles for floorboards
hinged transom
outboard motors of different types

Fishing equipment

universal fixing block
mounting rod holders
rod stands
spinning rods holders
echo sounders

Boat transportation equipment

transom wheels
car trailers

Navigation equipment
Essential accessories
There are accessories that you can't do without. These are primarily the accessories that are included in the basic configuration of a PVC boat.
It's impossible to imagine an inflatable boat without a pump or repair kit, without seats or oars.
Pump
All hulls of inflatable PVC boats are filled with air using a pump. It can be either a conventional foot pump or a high-pressure hand pump for inflating Air-Deck inflatable floorboard.
Repair kit (rebuild kit or "zip")
Although modern five-layer PVC materials – which PVC boat hulls are made of – withstand considerable mechanical loads, there is still a chance of getting punctured or cut. To eliminate such unpleasant situations, a mandatory accessory is needed — a repair kit, which usually consists of glue and pieces of fabric.
Seats
Seats or bench seats inside the cockpit of the boat serve to accommodate passengers – those are also an essential accessory. They are made of moisture-resistant plywood. In modern boats, seats are movable (sliding seats), they can be moved along the hull by means of special guides.
Oars
Oars are also necessary for any boat, even a motor one, since you can't push it off from the shore, sail through shallow water overgrown with algae or just move quietly without oars. As for rowing boats, this is the only propulsion device.
Transport bag
Bags or backpacks for storing or transporting an inflatable boat are also necessary – and they are among the mandatory accessories as well.
Then goes those optional accessories that make your water hike, fishing or water recreation safer and more comfortable.
Optional accessories
1. Safety vest
Safety vest is used to prevent a passenger who fell into the water from drawning, especially if a person does not know how to swim. Safety vests come in different types and styles. Safety vests is chosen according to the size and mass of a person. As a rule, they are of bright, eye-catching color, or, conversely, they can be camouflage – for hunters and fishermen.
2. UFB (universal fixing block)
This is a special table for mounting the echo sounder, it has two holders for fishing rods or spinning rods, as well as a mount for the echo sounder battery. You can install an UFB on an inflatable boat tube on your own. The kit includes the necessary fasteners and glue.
3. Removable soft seat
Removable soft seat is used for comfortable sitting on a rigid plywood bench. It can be of different colors and is easily attached with special straps. There are two types of soft seats – a pad for an ordinary seat and for a bow seat – a triangular-shaped one.
4. Under-seat bag
A convenient bag that is attached under the seat. It saves space in the cockpit and allows you to put your things, tackle and other items in there. It comes in different colors and sizes, depending on the model of the inflatable boat.
There is also the Kolibri bow bag, it has a triangular shape and is placed in the forward part of the cockpit, which is usually free.
5. Bow canopy (removable dodger)
There are two versions of bow canopies – small and large ones, depending on the model of your boat. The large canopies have a transparent window. They can be made in two colors. The removable dodger protects passengers from splashes and oncoming air flow, improves the aerodynamics of the boat at speed.
6. Protective canopy
Protective canopies protect passengers from rain and wind, sun and insects. There are two types of them – for rowing and motor boats. They are also made in different colors. The KOLIBRI protective canopy is provided with aluminum struts and a transparent window, it is convenient for fishermen, hunters and any person who spends a lot of time in a boat in different weather.
7. Transom wheels
Transom wheels are used to launch the boat into the water easier. They are made of glass-filled polyamide, which gives them strength and makes corrosion resistant. Transom wheels are permanently fixed to wooden, fiberglass or aluminum transoms.
Conclusion
So, we have considered different types of accessories, a basic and an additional set. The basic kit is included in the boat package when purchasing, it ensures the adequate functioning of the PVC boat. An additional set of accessories makes the use of the boat safer, more comfortable, functional and efficient. Moreover, the additional set actually is not limited by anything, as the choice of accessories from the Ukrainian KOLIBRI Boat Manufacturing Company for example is very wide and diverse, for different models of rowing and motor boats, canoes and raft boats. Accessories of our own production are the guarantee of high quality, security, compatibility and service.