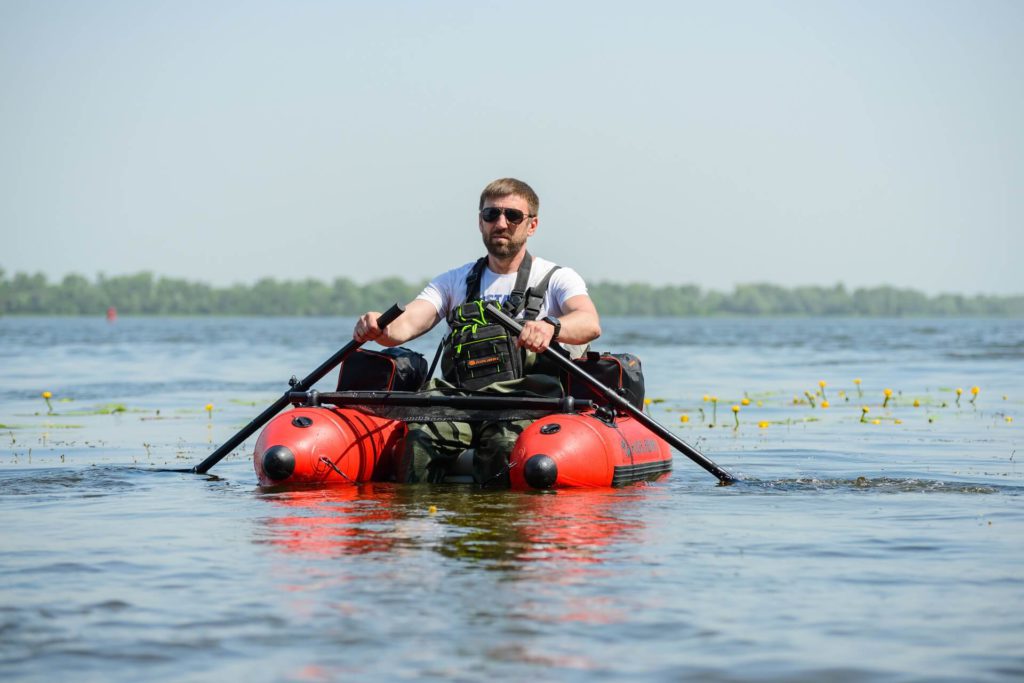 So what is a belly boat? Float board boat (Belly Boat) is a one-seater miniature inflatable boat resembling a lifebuoy or a floating chair. These boats are also sometimes called "Float Tube" or "Floating horseshoe" – all due to the unusual shape of their hull.
Float boat appeared quite a long time ago, its first use was noted during the First World War as an individual means of overcoming water obstacles. Much later, undeservedly forgotten float boats began to be used again – this time for fishing. Nowadays, their popularity is growing, especially in European countries, where fishing competitions are even held with the help of these boats.
This article will focus on the features of this unique flotation device, its advantages and disadvantages.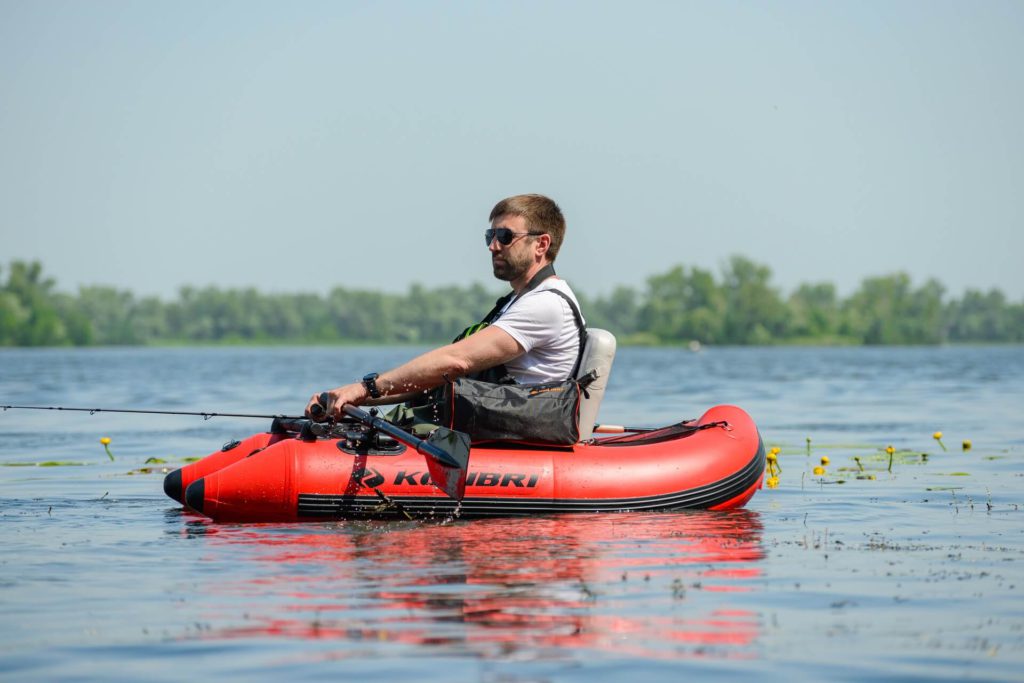 Design features
A float boat is an inflatable horseshoe-shaped boat resembling a chair, where the passenger is positioned with his back to the direction of travel. A unique design feature of such a boat is the fact that the passenger is in the water either up to his waist or his legs up to his knees. Different models of float boats assume different passenger positions.
The Belly Boat is propelled either by feet or by small oars on oarlocks, just like a traditional inflatable boat. Some models may even have a small outboard electric motor behind the passenger. The bow of the floater boat can be V-shaped or U-shaped. Accordingly, the hydrodynamics changes while driving.
The equipment set of such a boat may be different, but the main point here is the minimum space for fishing tackle, because diminutiveness in this case is fundamental. Among the accessories we note an inflatable floorboard, an inflatable seat, onboard tackle bags, oars, carrying straps, a pump, a repair kit, nets, a carrying bag.
The main differences between a belly float and other types of boats are, of course, the size and location of the passenger. Smaller than the smallest conventional inflatable boats. The location of the passenger (it would be more correct to even call him "rider"), as noted above, is half in the water (or just feet in the water). This is the main and fundamental difference between this type of boat.
The main advantages of Belly Boat
Advantages of float board boat Belly Boat:
Compactness. Fits in a bag or backpack, can be carried fully assembled behind the back.
Convenience for fishing. Fishing from such a boat is as convenient as possible, because the fisherman is at the level of the water surface. Also on such a boat you can fish in places inaccessible from the shore.
Silence of the movement. Due to the control of the

floating fishing chair

mainly with the feet, its movement through the reservoir is very quiet, with minimal water disturbance, which is very important during fishing.
The disadvantages include only a somewhat unusual position of the passenger, although it is worth getting used to – and then you can fully feel the unity with nature while fishing or contemplating lilies and water lilies.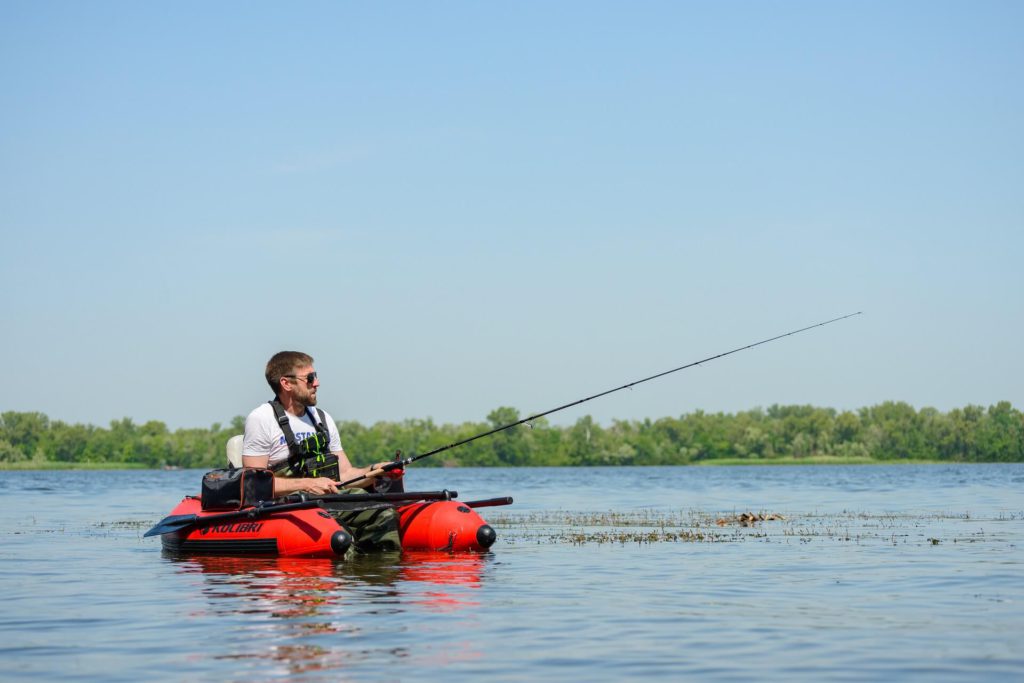 Who will suit a float boat
Why choose a float boat? A float boat is a perfect for fishermen. Fishing is the main purpose of this boat. Fly fishing involves a number of requirements for the location of the fisherman. In the case of using the belly boats, this location is almost optimal – at the water level. It is difficult to imagine a more convenient means of fly fishing than from such a float boat.
Float boat from Kolibri
KOLIBRI BMC – the leading Ukrainian Boat Manufacturer KOLIBRI BMC brings to your attention a float boat of its own production K-180F (Fisherman series). The set equipment includes:
 B

ellyboat

 Boat
 Oars
 Floorboard and seat air-deck
 Back straps
 Onboard bags
 Bag for boat
 Nets
 Repair set
 Pump
The advantages of this model:
 tubes are made of durable five-layer PVC fabric with a density of 850 g/m2;
 low weight and dimensions in transport condition;
 quick assembly and disassembly of the boat;
 rowing group with improved hydrodynamic characteristics;
 floorboard and seat air-deck.
The whole set has a small weight – 15.5 kg, the length of the boat is 178 cm, the width is 112 cm.
So, we see that modern fishing requires non-standard solutions as belly boating. Equipment often plays a key role. A float boat is an irreplaceable thing for fishermen and outdoor enthusiasts. This is a unique swimming facility that is unlike any other boat, speedboat or kayak. Float a boat for fishing is relaxing and fun, and with our boat it becomes especially easy and comfortable. When you buy Belly Boat from KOLIBRI, you are making the right choice.