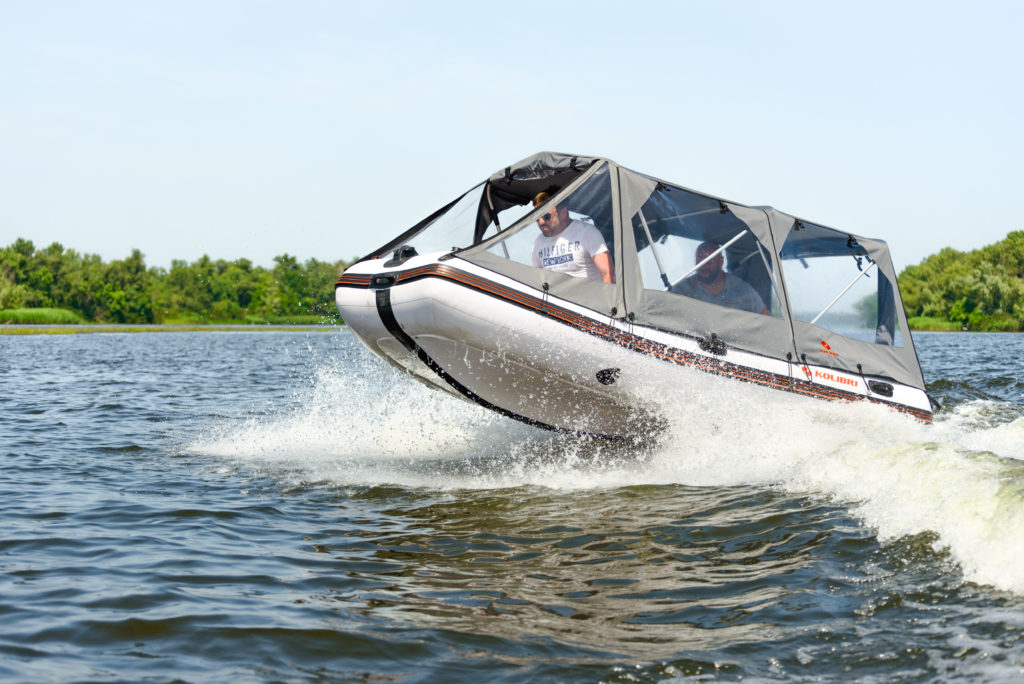 PVC boat canopy is an important part of its "wardrobe". Canopies come in different types and sizes, depending on their purpose and the specific model of the PVC boat.
Types of PVC boat canopies:
removable dodgers;
protective canopies;
bimini tops;
overall covers.
Depending on the functionality, canopies are made of different materials, can have transparent flexible windows-inserts, can be of different colors. Each PVC boat canopy is made for a specific model of an inflatable boat — this should be taken into account when choosing it.
Any type of canopy is used to protect the boat, its passengers, luggage and tackle from various environmental factors.
Types of canopies for the boat
Let's take a closer look at different types of boat canopies.
Removable dodger
It is designed to protect passengers from wind and splashes, is used for better aerodynamics when boat is moving at speed.
It is mounted at the bow of the inflatable boat by means of special holders glued to the hull, further along the canopy it is attached by means of hinges and hooks. It consists of an aluminum frame and a canopy fixed on it. KOLIBRI Boat Manufacturing Company produces two types of such canopies: a large one and a small one – for the KOLIBRI motor boats. They are different in shape and size. The large removable dodger for the KOLIBRI PVC boats is equipped with a transparent "window" for easy viewing. There are three types of small KOLIBRI removable dodgers (for canoes, for some models of motorboats of the Standard, Light, Profi, SL series) and two types of large removable dodgers of the same manufacturer (for certain models of motorboats of the Standard, Light, Profi, SL series). Large and small removable dodgers made by KOLIBRI company are available in two colors – gray and black.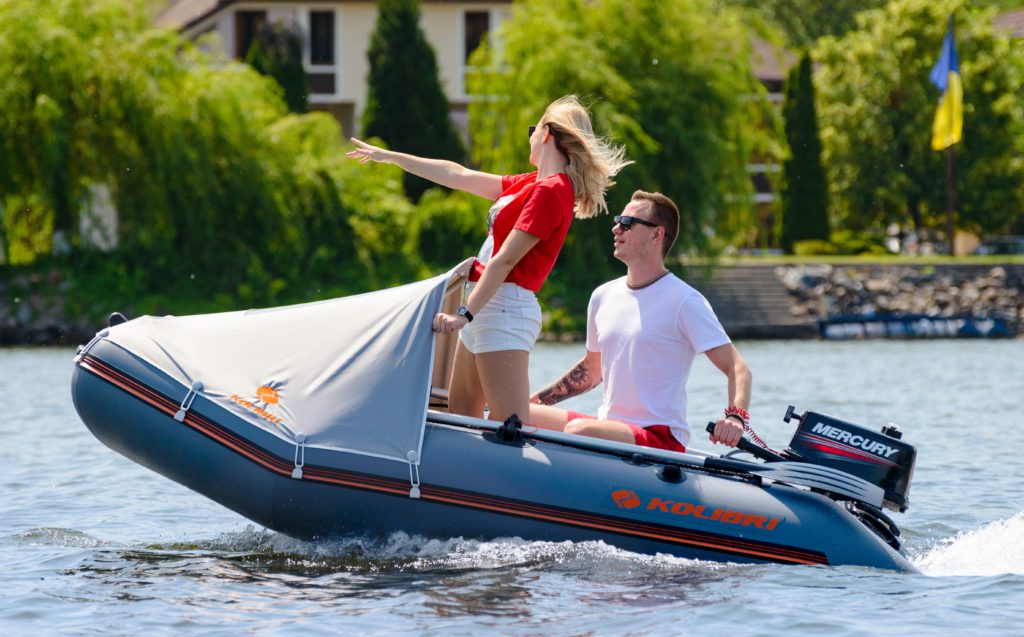 Protective canopy
Protective canopy is used to protect the cockpit, both during movement and while being anchored or moored. It serves as a cabin or a traditional tent. Protective canopy retains its shape due to the aluminum frame, which is attached to the sides of the boat. Such canopy is stable to the oncoming air flow at speed, to lateral gusts of wind. It can be easily transformed – you can open and fold every (or some) part of it, which are normally fastened to each other with a zipper. The material of the canopy has transparent inserts that allow for a full all-round view from the boat.
KOLIBRI Boat Manufacturing Company produces two types of such protective canopies – for rowing and motor inflatable boats of its own production. Canopies differ in shape and size, which does not affect their main function – to reliably protect passengers and goods inside the cockpit from external influences during the movement of the boat or while being anchored, for instance, from sunlight, precipitation, wind, splashes, cold, insects, etc.
So, there are 10 types (or articles) of protective tents for motorboats manufacturted by KOLIBRI company and 5 types for rowing boats. Each of these types can be of two colors – dark gray or camouflage.
Bimini top
Bimini top is used as a canopy from the sun rays or a light rain. Such a canopy is a fabric roof on an aluminum frame, which is attached to the sides of the boat and additionally held by special extensions. Bimini tops for KOLIBRI inflatable boats are resistant to oncoming air flow and wind, they are light and reliable. The simplicity of its design allows it to be quickly mounted and dismantled. There are 4 types of bimini tops for rowing and motor boats manufacturted by KOLIBRI company. Each of these types can be of three colors – white, dark gray or camouflage.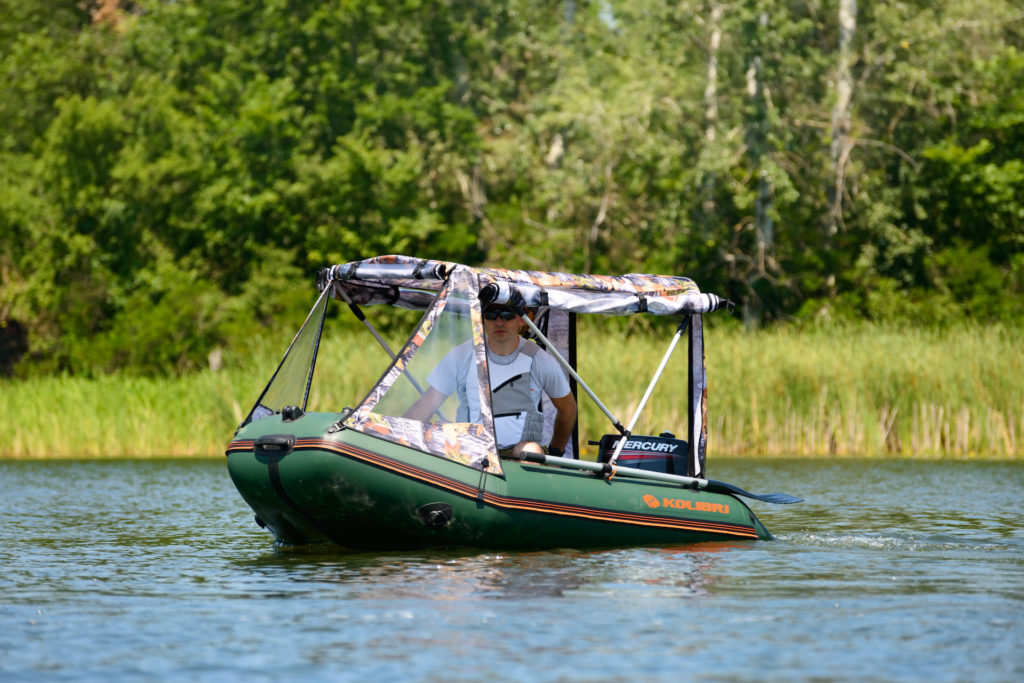 Overall cover
Overall cover (a mooring canopy for a boat) protects the hull of a PVC inflatable boat during its transportation and storage. This is the simplest type of canopy, it does not contain any frame and other complex fastening elements. It is a fabric cover made to fit a specific model of the KOLIBRI boat — the company produces eight types of overall cover, each of which can be of two colors – dark gray or camouflage.
Boat canopy materials
Usually protective canopies for PVC inflatable boats are made of durable water-resistant materials that tolerate exposure to intense sunlight, are resistant to temperature changes and contact with aggressive liquids (gasoline, engine oil, etc.).
For the manufacture of a boat canopy, as a rule, the following fabrics are used:
Polyester
Nylon
Ripstop
Oxford
Taffeta
Cordura
Polyester
The most common material used for sewing boat canopies is polyester, which is obtained from polyester fibers. Its main advantage is its high abrasion resistance. A polyester canopy will last long enough. Due to the polyurethane additive, polyester keeps its shape better, becomes waterproof, resistant to UV rays, mold, and other odors.
Nylon
A canopy for an inflatable boat can also be made of nylon. Nylon is a fabric that is made from polyamide threads with the addition of a special impregnating agent. Externally, nylon is similar to silk and can be of different colors. This fabric is characterized by low cost, wear resistance, ease of use and can be stored folded.
Ripstop
Ripstop is a type of fabric of combined weave, in the structure of which a reinforced armored thread is used. Such thread is usually made of polyester or nylon. The main yarn can be of any composition, thickness and density. Equally spaced reinforcement threads are put into the fabric structure crosswise. The intervals between the threads (frames) are from 5 to 8 mm.
The advantage of ripstop is increased strength, since damage is mechanically limited to a separate frame. Due to reinforced threads, small cuts cannot easily spread on such a fabric.
KOLIBRI Boat manufacturing Company uses ripstop fabric to produce its canopies.
Oxford
One of the best materials for sewing boat canopies is Oxford fabric. The material is obtained from polyester fibers intertwined by the hopsack weave. At the moment, there are a huge number of completely different fabrics that are distributed under the Oxford trademark. Do not confuse them with the classic fabric of this type. Oxford fabric is divided into several types depending on the thickness of the thread underlying the fabric: 210den, 240den, 300den, 420den, 600den. In the manufacture of canopy covers for cars, motorcycles, scooters, ATVs, snowmobiles, jet skis, 240-300 den fabric is used (if intended for storage while moored). For the equipment transportation (ATVs, snowmobiles, jet skis), a denser 600den polyester is used to avoid tearing the cover during transportation. Oxford fabrics are used in the production of canopies, tents, curtains, backpacks, shoes, bags, workwear.
Coating: PU (polyurethane) is an internal colorless coating that provides waterproof and windproof properties of the fabric. It is resistant to organic solvents. The water resistance of the PU-coated fabric varies from 200 to 5000 mm of water column.
Test results: Breaking load for different types of oxford — 80-160 kgf (at a rate of at least 50 kgf) in warp, 45-120 kgf (at a rate of at least 30 kgf). Water resistance for different PU coatings — 450mm; 800mm; 1000mm; 3000mm of water column. Frost resistance – oxford PU (-60°C).
Taffeta
Boat canopies are also made of taffeta. This is a special fabric that is made from nylon or polyester fibers. Externally, this fabric, like nylon, is similar to silk, but at the same time it is thinner and stronger. Due to its resistance to sunlight, Taffeta fabric is often used to produce bimini tops. The Taffeta material does not burn out and retains cold or heat well.
Cordura
Cordura is a registered trademark of certified nylon from INVISTA company. This is a polyamide fabric in which, due to the special structure of the thread (made of cut and twisted fibers), fourfold abrasion resistance is achieved compared to simple nylon, also consisting of polyamide. It is noticeably superior to ordinary fabric in terms of tensile strength and abrasion resistance. During production, the material is treated with polyurethane and a water-repellent DWR coating, which makes cordura more resistant to the elements of nature.
Accessories for boat canopies
Accessories for PVC boat canopies are:
aluminum tubular frames
extensions
zippers
stripes with clasps
plastic hooks that are attached with glue to the sides of the boat
KOLIBRI Boat Manufacturing Company produces almost all accessories for all types of its canopies on its own, which ensures high quality and reliability of the KOLIBRI protective canopies.
How to choose a PVC boat canopy
Choosing one or another type of canopy for a PVC boat is a responsible matter. First of all, you need to make sure that the specific model of the canopy fits exactly for the model of your boat. The mounting points should exactly match as to ensure reliable fixation of the canopy. This is stated in the relevant product documentation.
Next on the list is functionality – for example, if you need reliable protection from the weather, then a simple bimini top is not enough — you need to choose a protective canopy then.
The color scheme is a matter of aesthetics, coloring may possibly be important for you when hunting or fishing.
Anyways, canopies produced by the Ukrainian KOIBRI Boat Manufacturing Company will give you and your friends comfort and safety for a long time and protect your boat – both in extreme travel and quiet picnics in nature.
Exploring Inflatable Boats with Canopy Options
Inflatable boats have evolved significantly, offering a range of features to enhance your aquatic adventures. One notable feature that combines both utility and comfort is the canopy or tent cabin for inflatable boats. These ingenious additions transform your inflatable boat into a versatile vessel suitable for various activities, from fishing to leisurely cruising. Let's delve into the world of inflatable boats with canopy options and explore how they can elevate your boating experience.
Inflatable Boat Tent Cabin: An inflatable boat tent cabin is the epitome of versatility. It provides shelter and protection from the elements, turning your inflatable boat into a cozy cabin on the water. Whether you're camping, fishing, or simply seeking shade from the sun, an inflatable boat tent cabin offers a comfortable retreat. It's designed to fit snugly on your boat and typically includes durable materials that can withstand exposure to water, sun, and wind.
Dodgers Canopy: Dodgers canopies are a common choice for inflatable boat enthusiasts. These canopies are designed to shield passengers from wind, splashes, and excessive sun exposure. Dodgers canopies enhance aerodynamics when the boat is in motion and provide a comfortable space to enjoy your boating experience. They are often mounted at the bow of the boat using specialized holders and can be further secured with hinges and hooks. Dodgers canopies are available in various sizes to suit different boat models.
Inflatable Boat with Canopy: For those who prioritize sun protection and comfort, an inflatable boat with a canopy is an ideal choice. These boats come equipped with integrated canopies that provide shade and shelter for passengers. This design ensures that you're always prepared for changing weather conditions. Inflatable boats with canopies are perfect for leisurely cruises, picnics, and family outings.
Inflatable Boat Bow Canopy: The bow of an inflatable boat is a popular location for canopies. Bow canopies offer unobstructed views while providing protection from the elements. Whether you're navigating calm waters or exploring more adventurous routes, a bow canopy keeps you comfortable and dry. These canopies are often attached using sturdy frames and quality materials.
Boat Canopy Window Material: The choice of window material for your boat canopy is crucial. It determines visibility and durability. Many boat canopies feature transparent window materials that provide an unobstructed view of your surroundings. These materials are designed to withstand exposure to water, wind, and sunlight, ensuring longevity and clarity.
Small Boat Canopy: Small boat canopies cater to compact inflatable boats. These canopies are designed to provide shelter without compromising the boat's stability or balance. They are lightweight and easy to install, making them a practical choice for smaller vessels.
In conclusion, inflatable boats with canopy options offer a world of possibilities for boating enthusiasts. Whether you prefer the comfort of a tent cabin, the convenience of dodgers canopies, or the integration of a canopy into your boat's design, there's a solution to enhance your boating experience. These canopies provide protection, comfort, and versatility, allowing you to make the most of your time on the water while staying shielded from the elements. So, embark on your next aquatic adventure with confidence, knowing that your inflatable boat's canopy has you covered.