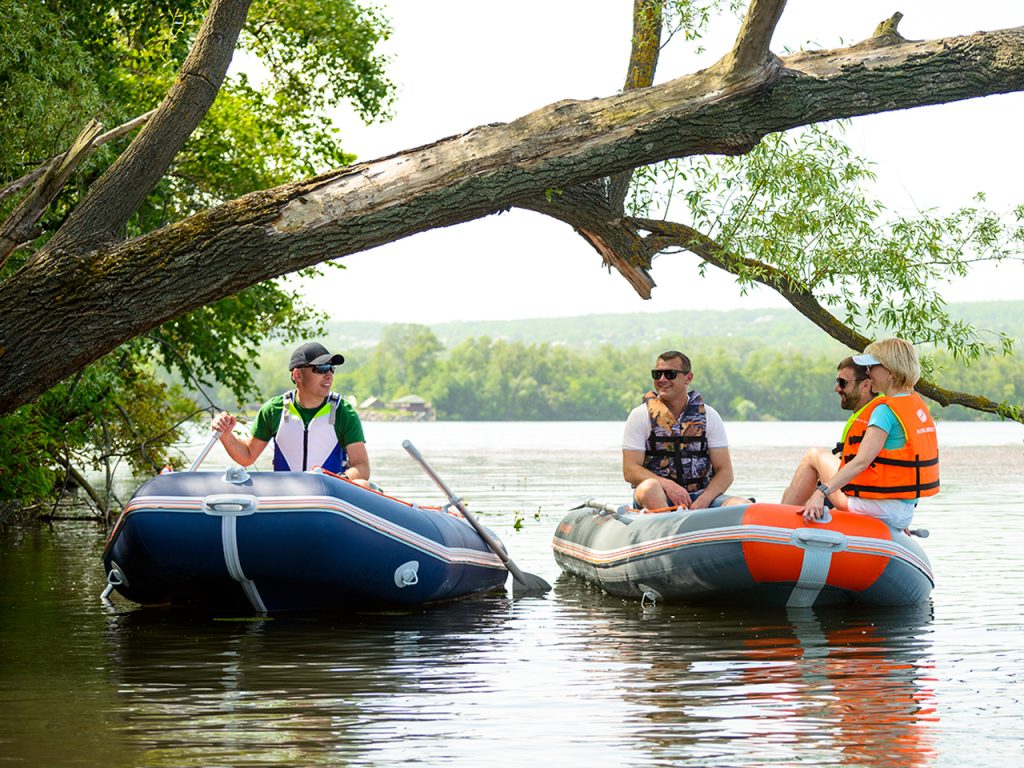 Fishing is one of the most popular types of recreation, it is immersion in your thoughts, enjoying nature and a complete reboot. And if you want complete privacy with nature, then you need to go fishing on an inflatable boat. Sailing along the river in a boat is a pleasure, you are completely immersed in this process – the swing of the oars, the splash of water, the sounds of nature … What could be better than this! But which boat is right for you? How to choose a PVC inflatable boat for fishing?
We will try to help you with this. High-quality, reliable and comfortable boat will serve you and your loved ones for many years, giving an unforgettable experience from your favorite hobby.
Possibilities of an inflatable boat for fishing
So, a boat for fishing and hunting should be easy to transport, easy to install and, if possible, easy to carry by one person. Boats and yachts, perhaps, will wait – we will talk about an inflatable boat.
Inflatable boats for fishing (even keel boats) have a shallow draft, which makes it possible for them to walk in shallow water. Independent sealed chambers in the boat's inflatable tubes ensure safety on the water.
Speed is not the last factor influencing the choice of boat. There are models with a mounted transom that allow you to install a light motor, as well as models of boats with a stationary transom with the possibility of using a more powerful motor.
A wide range of additional accessories for inflatable boats makes staying in them more comfortable during fishing or hunting – these are various kinds of canopies, tents, removable soft seats, auxiliary waterproof bags and covers.
Advantages of a PVC boat for fishing
Long gone are the days of inflatable rubber boats. They were more demanding to maintain, the boats were covered with talcum powder during storage, and their weight was noticeably higher than that of PVC inflatable boats.
PVC fabric or polyvinyl chloride is a modern synthetic polymer, which is a compound of carbon, hydrogen, chlorine and other components. PVC boats are resistant to mechanical damage, chemical attack of fuels and lubricants, ultraviolet solar radiation, heat and cold water.
PVC boats for fishing have good maintainability – you can seal a hole or cut either on your own, using a repair kit from the kit, or by contacting the manufacturer's service center.
An important factor in choosing a PVC boat for fishing is the ease of storage in the off-season. It takes up little space when deflated and can be stored on a balcony, garage or shed. PVC boats for fishing do not require special winter parking, etc.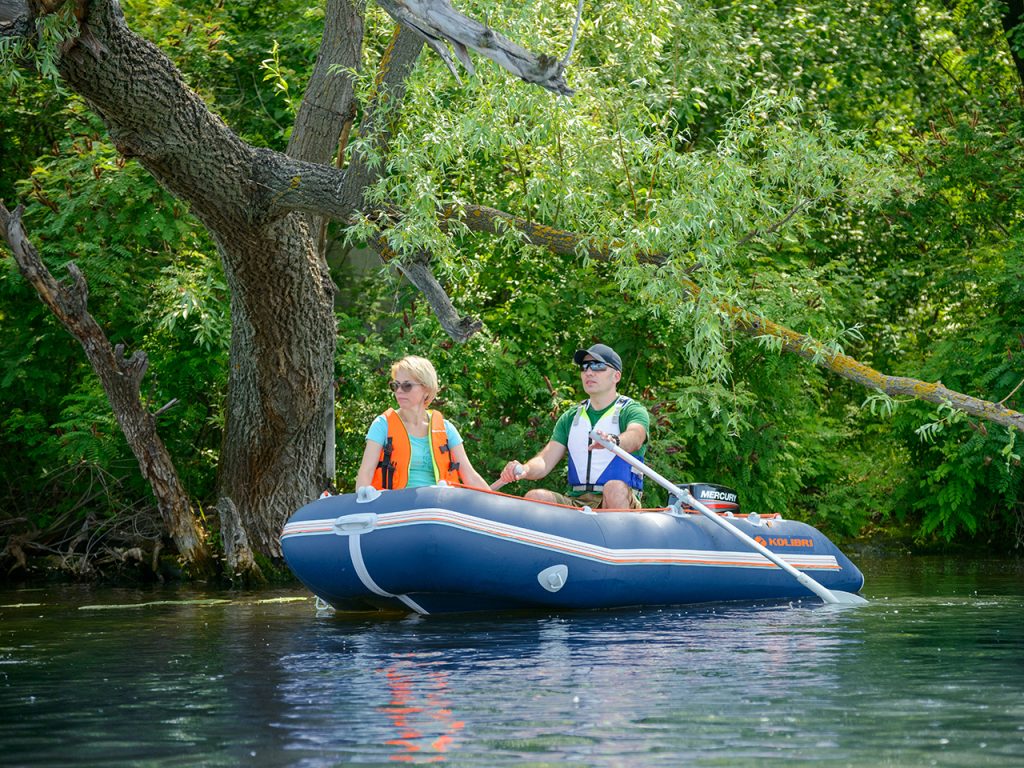 What to look for when choosing a fishing boat
How to choose a PVC inflatable boat for fishing? When choosing, you should be guided by your goals and preferences, such as:
boat size,
hull shape (flat-bottomed, keel),
the ability to walk on oars or under a motor,
choice of accessories,
color,
the need (or not) to register the boat,
brand and manufacturer's warranty and post-warranty support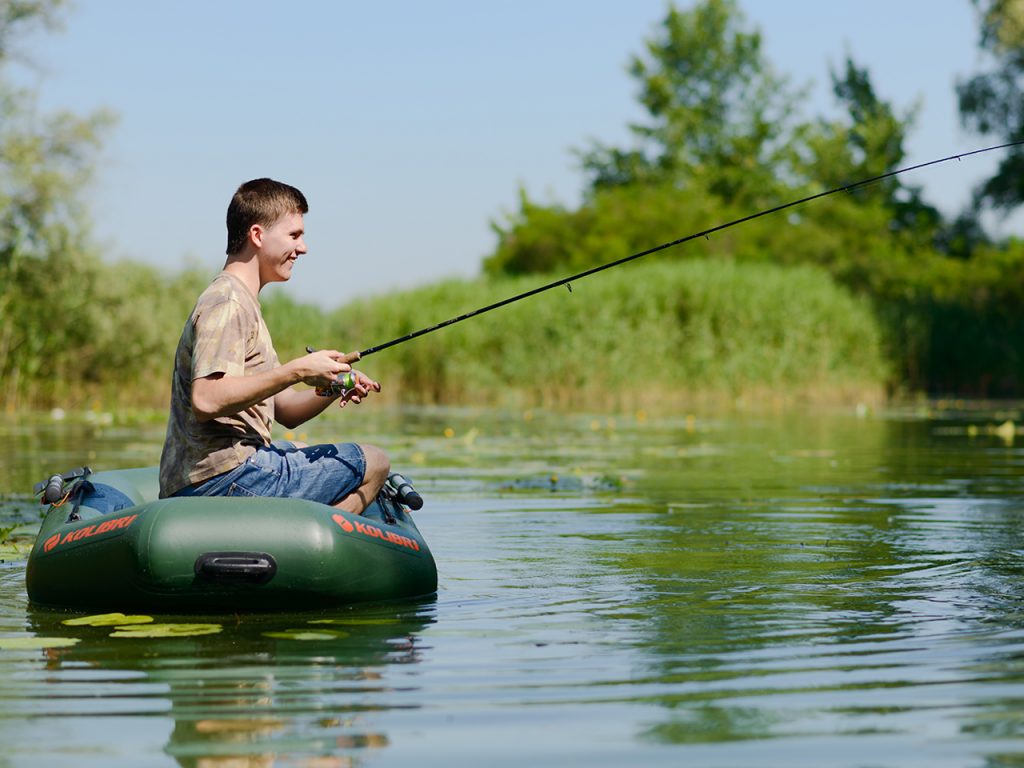 Buy a boat for hunting and fishing from the manufacturer
Considering all the above points, it is necessary to buy a boat for hunting and fishing from a well-known, time-tested brand that has a history and many positive recommendations from satisfied customers.
Such a choice will provide not only a guarantee for the boat, but also the necessary technical support from the factory service center, advice and assistance in selecting additional accessories or tuning.
So, after choosing a suitable model, you can buy an inflatable PVC boat for fishing from the dealers of the leading Ukrainian company KOLIBRI BMC, by reading the catalog on our website, or by contacting the relevant retail or wholesale sales department.
We wish you a successful choice, whatever it may be – any KOLIBRI boat will satisfy all your requirements, and our specialists will answer your questions.