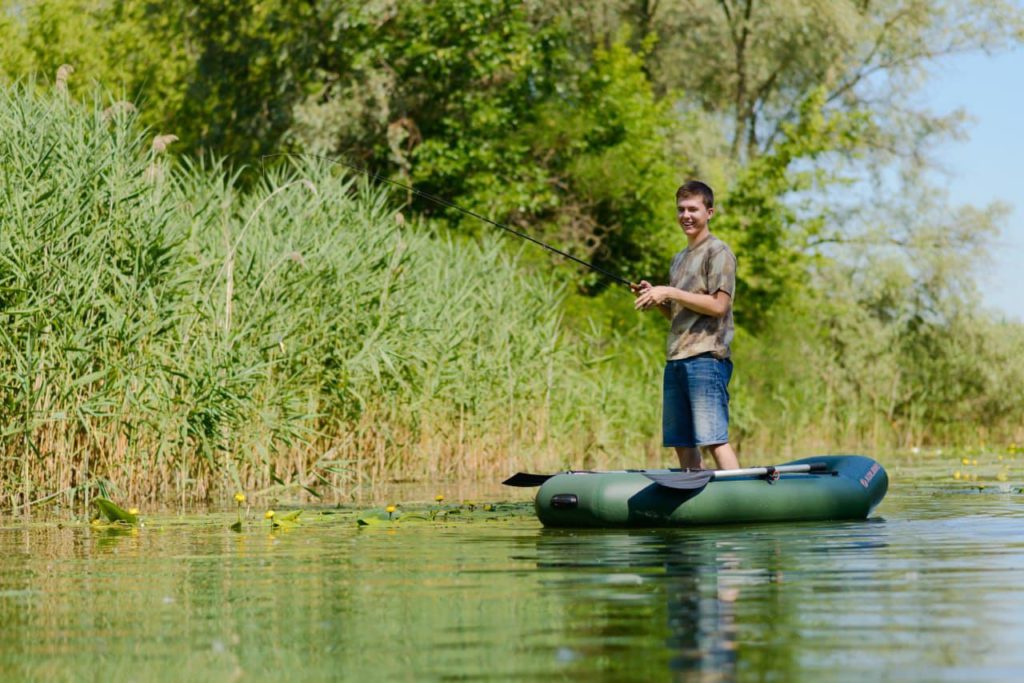 Choosing an inflatable boat is obvious and easy for some, but not for others. Of course, if you are a fisherman, water tourist or just a fan of active recreation, then you actually have no problem choosing a boat – you already know exactly what you want. If you are new to this field, we will try to  tell you briefly how to choose an inflatable boat. Some listen to the advice of friends, read comments and reviews, watch video reviews on YouTube. But all these sources of information are still quite subjective. Everyone has their own view on the technical details. You need to choose a boat for yourself, so we recommend based on your personal goals and preferences, up to the color of the hull.
So, let's start with what an inflatable boat is?
In general, it is quite light, inflatable, collapsible water craft, which is equipped with oars. The inflatable boat in disassembled form is placed in one or two bags for transportation.
The main criteria for choosing an inflatable boat.
Boat type
Boat size
Passenger capacity
Loading capacity
Features of the hull
A specific boat model is selected depending on the required criteria.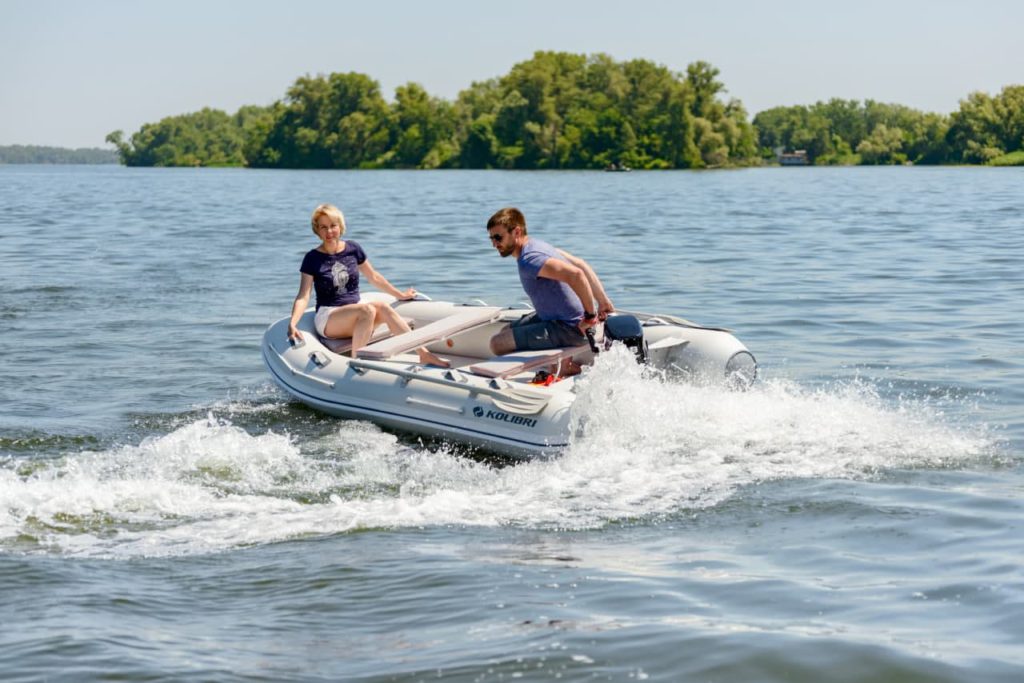 What is the difference between inflatable boats?
First of all, the modern inflatable boat is made of strong elastic material of PVC and consists of several airtight sections which are pumped with an air by means of the pump.
Inflatable boats are rowing and motor, flat-bottomed and keel. The height of the board, the shape of the bow and the type of transom can also be different, depending on the dynamic characteristics of a particular model.
Rowing boats are a simple version of a flat-bottomed boat that can be used with or without a flooring. The size of a rowing boat can vary from 1.9 to 2.8 meters, sometimes up to 3 meters. In most cases, rowing boats have mountings for the hinged transom and can be equipped with a removable hinged transom under the engine, up to 3.5 hp.
Motor boats are flat-bottomed and keel with a stationary transom under the motor. Motor flat-bottomed boats do not have a keel, they can be put on several options of floorboards, from plywood to inflatable, which adds rigidity to the boat. The sizes of such boats do not exceed 3,3 meters in length, there is a possibility of installation of the motor to 12 hp. These boats have average steering characteristics. But if speed and better steering are important to you, then a motor keel boat will suit you. The keel boat has a keel and a rigid floorboard, it can be plywood or aluminum. Such boats will please with the considerable sizes, from 3 to 4,5 meters and a possibility of installation of the more powerful motor to 35 hp. Motor keel boats are good for long distances. Passenger capacity varies from one to several people. Inflatable boats have a small draft, they are suitable for operation in almost any body of water.
Basic recommendations for choosing inflatable boats
Mobility
The main advantage of any inflatable boat is mobility: having taken out from the trunk, inflated, assembled, launched on the water, it is ready. A small inflated boat can even be carried on the shoulder. However, it is not entirely appropriate for large models with transom, rigid deck, keel. In this case, the assembly and disassembly of the boat is not frequent, and transportation is often carried out in the already assembled form, for which there are special trailers. But in the general case, a boat of any size is, above all, the mobility of its transportation to the place of use.
Note the important advantage of inflatable boats in terms of mobility – they do not necessarily have a place in the boat parking or berth, as it is required for large "rigid" boats and powerboats.
In general, the degree of mobility of your boat is your choice!
Models:
Super-small float board boats (Belly boat) for fishing, single. Can be carried behind the back, like a backpack – maximum mobility;
Compact rowing boats for fishing, with a capacity of 1-2 people. Easy enough to carry and quick to assemble;
Inflatable canoes – boats for water trips (both on oars and under the motor). Can be compared in mobility with compact rowing boats;
Motor inflatable boats are already difficult to classify as mobile, although they are much more convenient to move and store compared to "rigid" boats.
Size
Does the size of the inflatable boat model matter? Good question.
Let's say you like fishing alone, or you plan water trips together with friends. Accordingly, the boat can be selected single or larger, up the line of models. Fortunately, the choice in this regard is now great. The size of the cockpit (internal space of the boat) varies widely, the seats (thwarts) in modern inflatable boats are sliding and removable, which allows you to change the useful internal volume of the boat for different purposes. Keep in mind that the size and load capacity of the inflatable boat is good to choose with a small margin for your purposes. Overloading the boat on the water is not allowed for your safety and the safety of your loved ones.
Motor or oars
Here, too, your choice depends purely on your goals. Either move away from the shore on oars and anchor for fishing with a fishing rod in a quiet place, or with a breeze gliding in the open water under a powerful motor. We will remind that on rowing boats also often there is a possibility of installation of the small motor on a transom. That is, the choice of "motor / oars", technically, does not depend on the size of the inflatable boat.
Models:
small rowing models which do not provide installation of the motor;
rowing models with the possibility of installation on a removable transom of the outboard motor with a power up to 3.5 hp;
boats with a stationary transom under the engine from 3.5 to 35 hp.
Do you need a keel?
The keel is needed for exchange rate stability. Inflatable boats with a keel are less prone to swaying to the side at speed, i.e. the keel stabilizes the direction of the boat. Boats with keel have better maneuverability, steering, fast access to the speedboat. On some models of motor boats there is an inflatable keel, which is a benefit. If your plans do not include a fast ride with the breeze, choose a model of a boat with a flat bottom.
Models:
inflatable keel is usually equipped with boats of medium and large sizes
Deck
The deck or flooring (floorboard) gives the inflatable boat comfort, safety, functionality and additional rigidity. Standing or walking on solid flooring is, of course, more comfortable and safer. Motor and rowing inflatable boats are mainly equipped with the floorboard of different types. For example, rowing on oars is much more convenient, resting feet on a solid deck, and get up or go inside the cockpit more convenient and safer, if the bottom does not bend and slide under you. But there are models without some flooring. In addition, you can always buy a floorboard later or exchange it for another type. By the way, the types of floorboards are as follows:
plywood moisture-resistant film faced floorboard;
aluminum;
Air-deck.
Different types of floorboards differ in functionality, although they serve the same purpose. Plywood and aluminum floorboards are about twice as heavy as inflatable.
Models:
all inflatable boats have a possibility of installation of a floorboards of various types;
there are models that do not have a flooring in the basic configuration, but it can always be purchased and installed optionally
Optional equipment
Choose a manufacturer that offers many optional features for their models of inflatable boats. Typically, optional equipment is designed for specific models of inflatable boats, due to location and size of the fasteners, such as for bimini top or removable dodger.
Bags that are located under the seats (thwarts) or in the bow of the boat, removable soft seats also have the size and features of attachment to specific models of a particular manufacturer and may not fit on a boat of another brand, this should also be kept in mind.
Optional sewing products for boats are very useful, as:
bimini top;
protective canopy;
removable dodger from splashes;
overall cover for boat transportation;
safety vests;
special boat bags for storage and carrying
Remember about such important optional accessories as rod holders, spinning rods and echo sounders.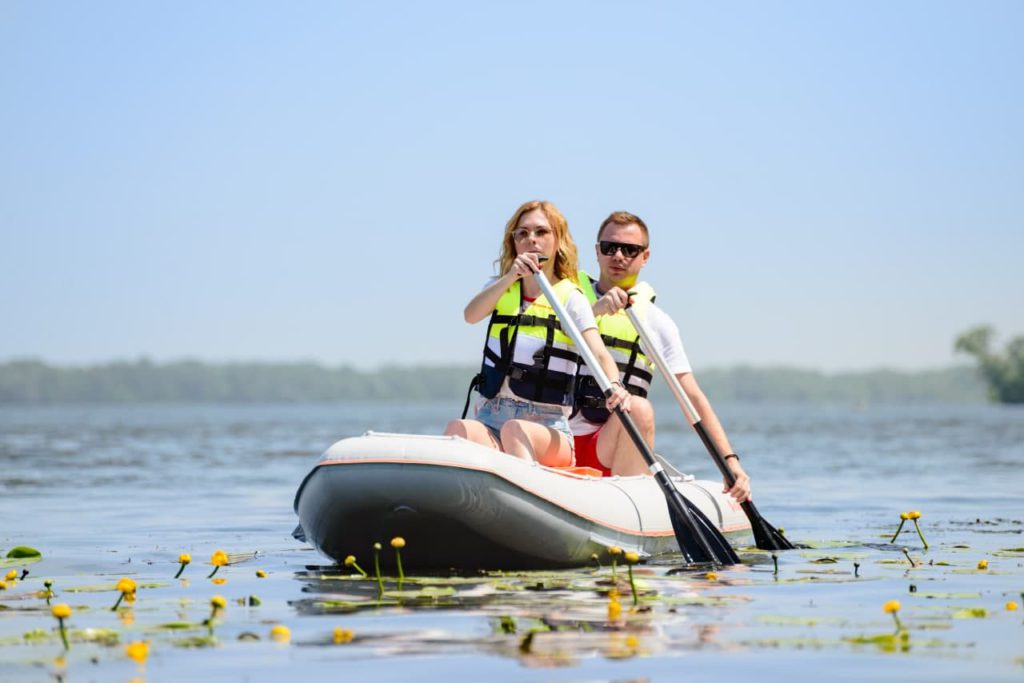 Value for money
Philosophical question.
Phrases about "buy nice or buy twice (three times)" or "do not feel sorry for yourself, beloved" come to mind. The idea of wandering on forums and social networks in search of reviews and advice comes to mind again. Be down to earth.
In principle, the models of inflatable boats from different manufacturers are similar to each other in general, similar patterns are used, the size and shape of different models are repeated somewhere, although, of course, there are designer's developments. But important differences, as always, are in the details. Material, seams, accessories, quality of assembly, a set of optional equipment and accessories, service, warranty and many other features make each brand special.
Some manufacturers want to save up and try to make the boat cheaper. For example, they use parts made of cheap plastic from third-party manufacturers, and some, on the contrary, are engaged in casting and guarantees the quality by applying its logo on the parts. Manufacturing technologies also differ. For example, high frequency currents are the best choice for a good seam connection. And the material, of course, is also very important. Cheap fabric is not high quality, and vice versa – it's obvious.
Then, oars, seats, deck, bags, fishing tackle holders, awnings, transom wheels and a lot of equipment and accessories, which are either included in the basic set, or purchased separately as options, all this, of course, also affects the price. And to determine the magic value for money is your job alone. Having studied the description of boat manufacturing technologies from different manufacturers (if it is described on their websites), you can already draw some conclusions for yourself. You can often visit the brand store in advance, inspect the boat yourself, touch it, so-called, yourself, and draw conclusions.
International certification of boat models also plays an important role in the selection. Do not be lazy to find this information, and your choice will be even more correct.
So, you have read the article to this point, now you own all the necessary data to choose a boat. The main criterion is personal preferences and the purpose for which you plan to use your future boat.
We wish you the right choice of inflatable boat of your dreams, which will delight you and your friends for many years.
Choosing the Right Inflatable Boat: additional information
Selecting the perfect inflatable boat can be a rewarding but challenging endeavor. Whether you're planning to explore calm lakes, venture into fishing expeditions, or cruise along rivers, the right boat can make all the difference. To help you make an informed decision, let's delve into the intricacies of how to choose a boat.
Define Your Boat Type
Begin by identifying your specific needs and the type of activities you plan to undertake with your inflatable boat. Are you looking for a versatile rowing boat, a rubber dinghy with a reliable motor, or a powerful inflatable boat for water sports? Knowing your primary purpose will narrow down your options significantly.
Consider Boat Size
Boat size matters, and it's essential to match it with your intended use. If you prefer solo excursions or simple rowing adventures, a compact inflatable row boat could be ideal. On the other hand, if you have a crew or plan to accommodate more gear, opt for a larger rubber dinghy with motor capabilities. Always keep passenger and cargo capacity in mind to ensure safety and comfort.
Engine Options
One of the significant advantages of inflatable boats is their compatibility with engines. If you desire the convenience and power of an inflatable motorised boat, explore your engine options. Consider the type of outboard motor suitable for your boat size and intended activities. A rubber dinghy with an outboard motor can provide both speed and ease of use for a variety of water adventures.
Research and Reviews
In the digital age, accessing inflatable boat reviews is easier than ever. Take advantage of online resources and forums to gather insights from fellow boating enthusiasts. Pay particular attention to Kolibri inflatable boat reviews if you're considering this brand, as first-hand experiences can provide valuable information about specific models.
Quality and Durability
Boat quality and durability are paramount. Inspect the material used in the boat's construction, ensuring it's robust and puncture-resistant. Examine the seams for strength and airtightness. Opt for reputable manufacturers like Kolibri known for producing high-quality inflatable boats.
Consider Optional Features
Many inflatable boats offer optional features and accessories that can enhance your boating experience. Think about your needs and preferences. Do you require a bimini top for sun protection, a removable dodger to shield from splashes, or additional storage space? Take these optional extras into account when making your decision.
Maintenance and Storage
Consider the ease of maintenance and storage. Inflatable boats are generally low-maintenance, but it's essential to follow the manufacturer's guidelines for care. Evaluate whether you have suitable storage space for your boat when it's not in use.
Budget Wisely
Your budget will play a significant role in your choice. While it's tempting to go for the most affordable option, remember that higher-quality boats often come at a slightly higher price. Balancing your budget with the long-term value and quality of your inflatable boat is essential.
In Conclusion
Choosing the right inflatable boat is a personalized process that requires careful consideration of your preferences, needs, and budget. Whether you're selecting a versatile inflatable row boat, a rubber dinghy with a motor, or a powerful inflatable power boat, conducting thorough research and exploring reviews will guide you to the perfect choice. Quality, durability, and optional features should be top priorities, ensuring that your investment brings you years of aquatic enjoyment with your chosen inflatable boat and engine.